What types of window locks are the best?
Choosing the right window locks for your windows can be a little stressful when you don't know what you're getting into. If you are thinking about changing the locks on your windows? Then start by learning the different types of window locks. Today you are in luck because we'll be talking about the types of window locks.
A window lock is a key element of any home; having your windows secured at night is a must so you can have peace of mind at night or any moment. And yes, there are different types of window locks. Window locks certainly offer several benefits. However, there are key elements you need to consider to choose the one that will match your needs.
Window locks are a basic necessity for keeping your home safe from intruders, and you certainly don't want to make a bad decision when it comes to security. Now that you know how important window locks are learn about the different types and the best smart lock money to buy.
FAQ's
Are window locks important?
Window locks are an important safety feature. Their main job is to help keep intruders from entering your home. These become even more relevant if you have young children living in your home; windows must be locked at all times.
The right window locks will also make you eligible to take out home insurance.
Do all windows need locks?
It's totally up to you; you may decide that windows in second-story bedrooms do not need a lock; however, certain areas need window locks without a doubt. Your basement, front windows, and any windows on the first level and aren't protected by a fence should definitely have window locks. Otherwise, these become easy targets for burglars.
Types of window locks
Keyed locks
These are often used to secure double-hung windows. They are installed on the side of your window and will secure it to its frame. It is important to keep the key that these locks required secured at a place and not lose it.
Window latches for additional security
These are often seen on locks for single and double-hung windows that are not made of standard UPVC. With window latches, you can expect to be installed on the top of a window sash. As well as providing a layer of security, they can also stop heat from escaping from your windows and create a seal to keep the cold out.
Child safety window latches
These only open at a certain degree, preventing windows from being fully open. This is great to keep your home ventilated without the risk of your children accidentally falling out.
Sliding window lock
As the name indicates, this type of lock is for sliding windows. The lock, which can come in a bar, a sash, or a wedge, is installed on the track to prevent the window from being opened.
Push-lock
A push-lock is a kind of lock installed both on sliding, awning, and double-hung windows. It is a locking bolt that can be pushed to lock and opened with a key.
Window pin lock
A window pin lock is a type of lock that uses two separate parts; one installed on the window itself and one on the window frame.
Smart Locks
Instead of a key, Smart locks require a code, or you can also open them using your smartphone. While you will most often find smart locks on front and back doors, sensors exist for windows. Sensors can tell you if your window is locked or unlocked, closed or open, allowing you to monitor the safety of your home.
Window locks
The Lockly Secure Pro Latch Edition is the best smart lock money can buy. Unlike other smart locks, Lockly only uses high-quality capacitive fingerprint sensors, which only recognize fingerprints, unlike less secure optical readers. Stores up to 99 unique fingerprints.
Lock and unlock your home, office, or rental property door all from the convenience of your iOS or Android smartphone via secure Bluetooth connection or Wi-Fi anywhere in the world. Includes two backup physical keys for peace of mind.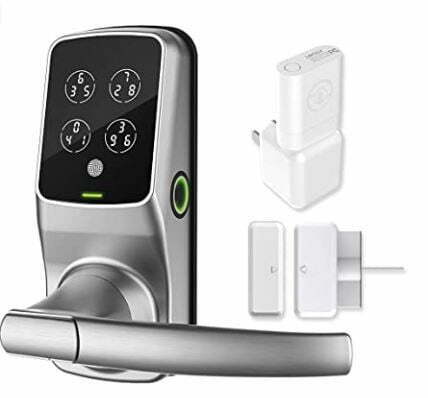 Features:
Connect from Your Phone
Your finger is your key
Works with Alexa and Google Assistant
Wi-Fi hub
Know who is coming and going
Use these sliding window locks to prevent unwanted intruders and avoid falling accidents; keeping your windows closed when you want them the most secure! Air and a breeze can get in, but no intruders.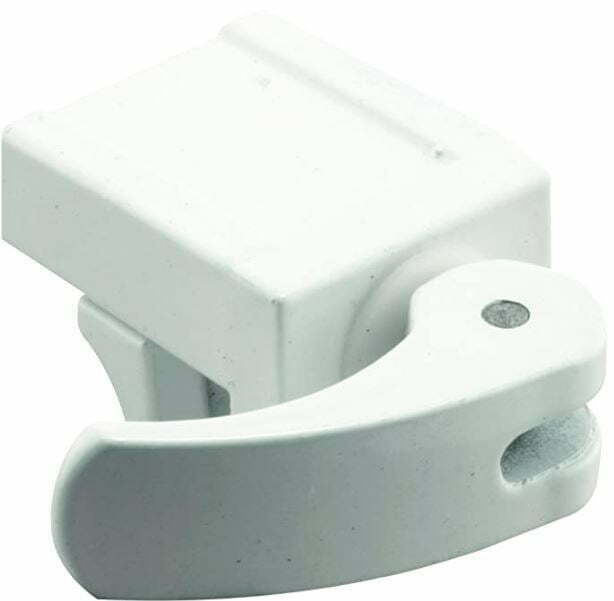 Features:
An adjustable jaw that has a "vise-like" grip, and they are capable of opening up to ½" wide.
Use on horizontal sliding windows
Allows window to lock in ventilating position
These slider locks are perfect for patio doors, sliding glass doors, etc. This double thumb screw from Lion Locks is constructed from heavy-duty extruded aluminum,
It utilizes a double thumbscrew design for added gripping power to mount onto your sliding door track to securely lock your sliding doors in a closed or ventilating position.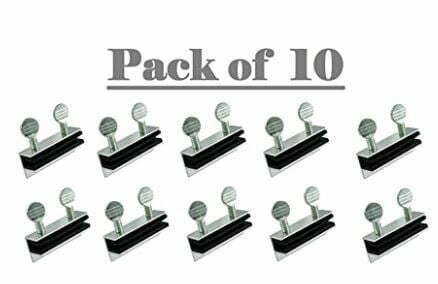 Features:
Heavy-duty aluminum construction, inner-vinyl lining prevents scratching damage.
Easy installation with no tools required
Additional gripping
These slider locks will fit along a track that is up to 3/16 inches wide
Compared to other window locks, these window locks adopt an enhanced double open design, which obtains stronger friction force to lock more solid for safer security.
It is made of aluminum alloy, sturdy and strong, and there's a yellow plastic cover outside the key handle, which can serve you a long time.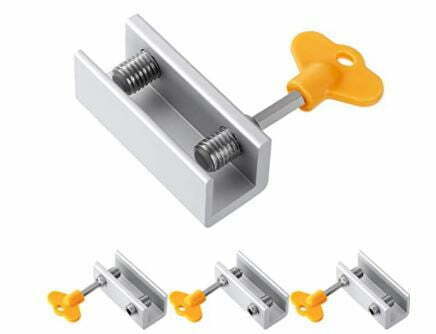 Features:
4 x sliding window locks with key
Double protection
Apply to windows and doors
This Safety Innovations Window and Door Safety Stop help keep windows, sliding glass doors, sliding shower doors, and mirrored sliding closet doors locked to keep your baby safe.
It effectively keeps windows and sliding glass doors locked to prevent window falls and keep your children from wandering into unsafe areas.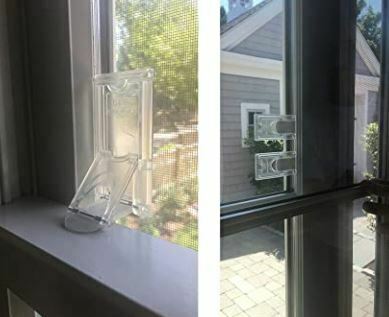 Features:
Simple sliding motion locks and releases
Pre-applied, heavy-duty industrial strength 3M VHB tape
The window lock adjusts from 9.5″ to 16.5″ in length. Works well with most standard window tracks with an air conditioner installed. It prevents the window from opening when installing an A/C unit. Keep your window stay in height to stop your AC unit from falling out or being stolen from outside.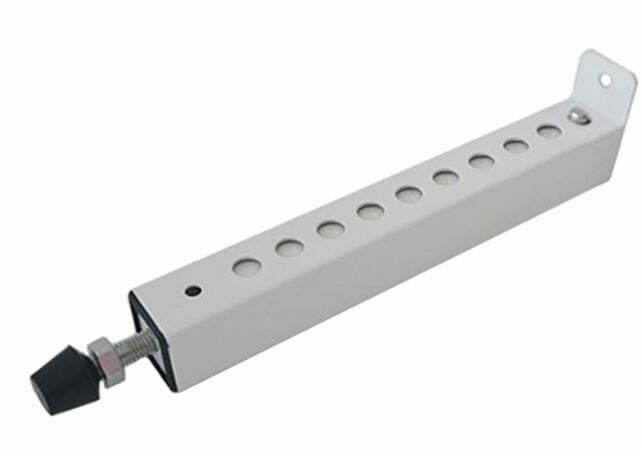 Features:
Made of two high-impact steel tubes for a sturdy and stronger protection
Adhesive Velcro strips
Rubber end
Smooth white finish
This sash lock is constructed of diecast zinc and comes finished in white baked-on enamel. It features a 5/16 in. narrow keeper with 2-1/16 in. mounting hole center spacings on both the keeper and cam-action latch. This sash lock can be used on vertical single and double-hung sliding windows and horizontal sliding windows. It can be used on windows constructed of aluminum, wood, and vinyl sash and frames.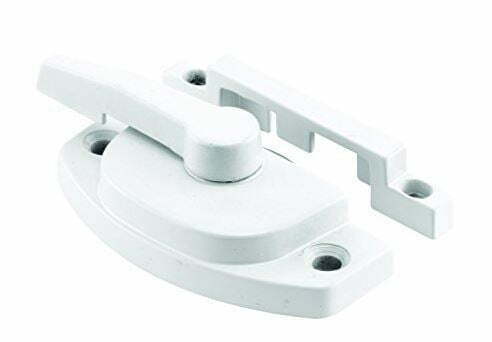 Features:
This sash lock can be used on horizontal and vertical sliding windows
Constructed of aluminum, wood, and vinyl materials
Baked-on white enamel finish
Diecast construction