What Types of Dressers Options are there?
Looking for the right type of dresser to fit in a small room? We hear you, dressers are a key piece of furniture of every bedroom, and getting to know about the different types of dressers is the right place to start before making any big decisions. The reason why today we'll be telling you about the types of dressers for small rooms.
Anything that goes inside that personal space that is your bedroom should be a reflection of you, and you should absolutely love it. All the more reason why you shouldn't rush a decision with such an important piece of furniture.
Dressers not only offer a space to store clothing and other items in their drawers but can also become a stylish piece, an item that effortlessly works with the rest of your décor. So, although it may seem a little tricky trying to fit one in a small room, there's no reason why you shouldn't get one. Yes, it will take space, but think of how nicely it will go in your room, how it will keep things organized and how you can display collectibles or other stuff.
Dressers can be found of different types and sizes, and sometimes they may even come as part of Mudroom Lockers that can be used either on your home entry or inside your room.
Types of Dressers
There are numerous different types of dressers available for the plethora of decorating styles and personal preferences, and then you also have a few basic models.
The largest sit wide and have upwards of nine drawers. You can also expect dressers this large to come with a built-in mirror. Large dressers include options like Horizontal and Double dressers.
A smaller unit might have only seven drawers: three along the top and two wide ones in columns on either side. These are the ones we are looking for. Smaller dressers include the following:
Vertical Chest
These are tall and narrow storage furniture pieces. If your bedroom is on the small side, a chest is an ideal option for clothes storage.
Gentleman's Chest
A bachelor's chest is now considered any small dresser or chest with three or four drawers. They typically have a squat shape and are sometimes small enough to be used as nightstands.
Raised Bed and Dresser
This is a great space-saving solution if you have a small bedroom but need storage space. It comprises a raised bed, also called a loft bed or a cabin bed, with a chest of drawers or dresser fixed underneath or at its side.
Check out the following options of dressers that will fit perfectly in small spaces.
The Storkcraft Kenton 5-Drawer Universal Dresser has an attractive, classic design to bring a touch of elegance to any bedroom or nursery. This easy-to-assemble dresser is the perfect combination of elegant design and practical function.
With 5 spacious drawers to fit clothes, accessories, or toys, this dresser will help you keep the nursery, toddler's room, or kid's room neat and organized.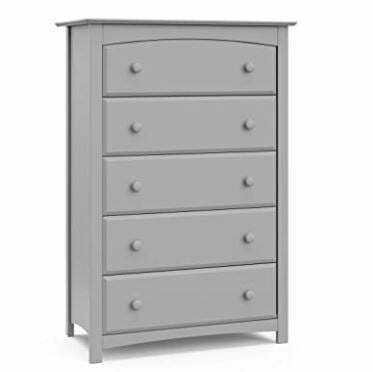 Features:
5 spacious drawers
Attractive, classic design
Material: Wood
Color: Pebble Gray
Style: Chest
With its classic styling and clean lines, the Bentley 6 Drawer Dresser from Delta Children makes a charming addition to any room in your house. A smart, safe and sleek storage solution, this dresser features 6 generously sized drawers, providing plenty of room for baby clothing, bedding, toys, and more.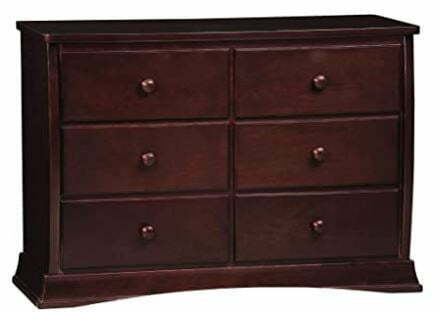 Features:
Strong and sturdy wood construction
6 spacious drawers
Made of solid wood and wood composites
Meets ASTM standards
Tested for lead and other toxic elements
This Astrid 6-Drawer Tall Chest is your small space solution. Its contemporary design and clean lines will complement any décor. Profiled drawer fronts and solid wood knobs help provide a timeless look. Use on its own or pair it with other matching pieces from the Astrid Collection.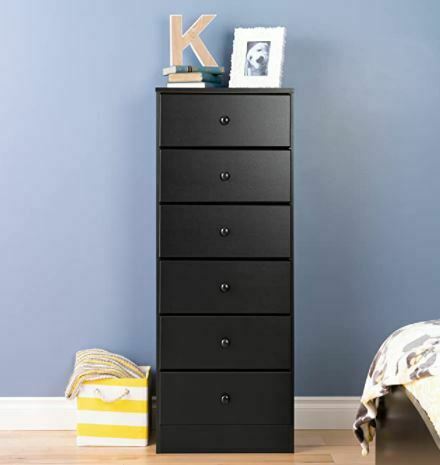 Features:
Solid wood Knobs with a Black Finish
Smooth Running Drawer Glides
Safety stops to help keep the drawers secure and in place
With four deep drawers that open and close on smooth metal runners with safety stop features, you'll have plenty of room to store your clothes.
Finished in a charming Oiled Oak, this chest is sure to charm and keep your bedroom tidy.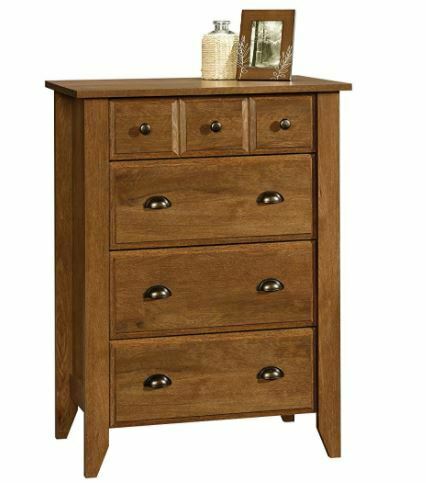 Features:
Safety tested for stability
Drawers with metal runners
It meets ASTM International's industry standard
Oiled Oak finish
The Aurora Double Dresser is built of durable kiln-dried hardwood and hardwood veneers.
This dresser comes with crystal and metal knobs, Queen Anne-style feet, and ribbon and bow scrollwork, just as if out of a fairytale. Great choice to add a touch of magic and royalty to your baby's nursery, your bedroom, or even the hallway.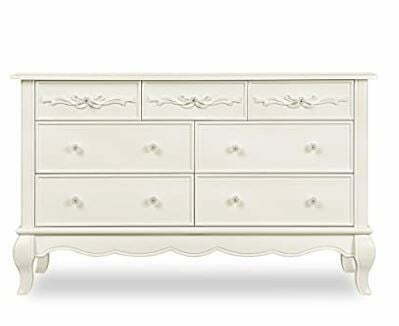 Features:
Whimsical design
Sturdy build
Alluring finishes
This tall five-chest drawer is a rustic design to match a country-style space. The top two drawers have a faux split that gives you the illusion of having two drawers. The natural wood grain pulls further to complete a classic look.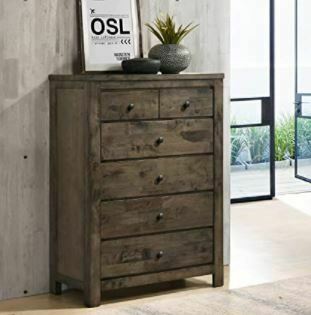 Features:
Rustic, Country Style
Natural wood grain
Hardwood solids with weather wood veneer
Ample storage space with wide drawers
Keep your clothing safe, secure, and organized, all while uplifting the beauty of your bedroom décor. This pretty-looking man's chest boasts ample storage space and strong, stately appeal. Its left half is complete with six roomy drawers, and on the right, you can find a large cabinet that opens up to reveal even more space to accommodate sweaters, jackets, and anything else you may choose.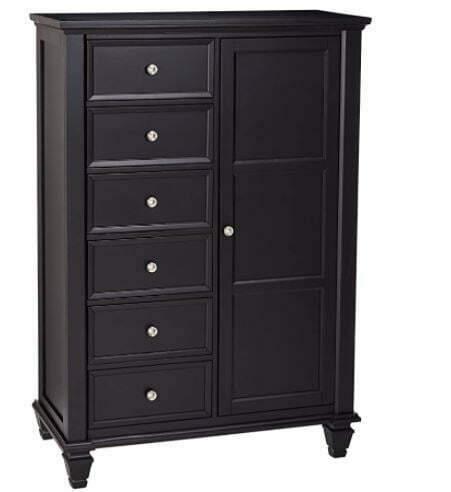 Features:
Materials: Asian hardwood, Asian tropical wood, and MDF
Finish Color: Black
Hardware finish: Silver
Weight limit: Drawer – 45 lbs
Bling Game 7-Drawer Dresser
Though small, this dresser is all about luxe, opulent glamour vibes. Gorgeous and glam, it features a highlight glaze over a shining metallic finish for a sophisticated appeal. Felt-lined top drawers and a classic silhouette add a luxurious touch of style. This dresser includes hidden drawers for added privacy and peace of mind.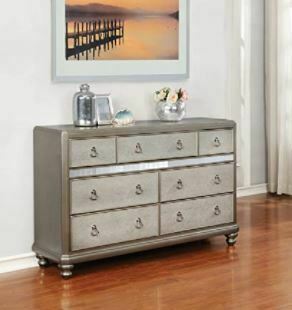 Features:
Materials: Asian hardwood, plywood, and MDF
Finish Color: Metallic Platinum
Hardware finish: Silver
Drawer – felt-lined: Top drawer only
Hidden drawers