Types of Garages you Should Consider
A garage is a key element of any home; having one means you can easily access your grounds and help you avoid the rain and cold, thus facilitating your car.
If you are looking for garage options for single car spaces, start by learning the different garages.
That's right, there are different types of garages, and sometimes choosing the right one can be a little overwhelming with so many options out there. A garage certainly offers several benefits. However, there are key elements you need to consider to choose the one that will match your needs.
For instance, you can choose your garage between a detached or attached garage, a garage with an upstairs home, etc. We'll be telling you today about different types of garages for single car spaces and more.
Types of garages
Attached garage
This garage is annexed to the house to have straightforward access to your vehicles and storage.
Detached garage
As the name suggests, this type of garage is built separately from the main house.
Internal garage
An internal garage is built into the home, but rather than being positioned on the side of it like an attached garage; it will take up some of the ground floors of the property.
Portico garage
A portico garage is separate from the house but joined via a walkway or an undercover area. The portico is the area where you can walk between your home and garage.
If you have a detached garage near your home, you can create a portico garage by building a low roof that reaches from your garage to the exterior wall of your house.
Workshop garage
This type of garage is convenient for those who enjoy DIY projects and use the garage space as a workshop. If you want to turn your garage into a workshop, keep in mind your garage will need power access to have lighting and operate power tools.
Cart
A carport is not a garage per se, but it serves just like one. A carport will usually, though not always, be attached to the side of the house so that the exterior wall of the home forms one wall of the carport. The remainder of the carport will be made up of corner posts that support the roof.
Barn garage
Barn garages are a type of detached garage that features a loft space for additional storage. A barn garage will give you the freedom to store your vehicle and tools on the ground floor.
Carriage house garage
A carriage house is also known as a coach house and is a type of garage with an apartment on top. These garages work as a great addition to family homes with growing children because Carriage houses can also work well as a singular living space.
According to the parking layout, garages can also be
Single-car garage
As the name indicates, this is a garage size that can only fit one vehicle. However, the driver and passenger can still open the doors and do some maneuvering. It has an approximate total area of 14 square meters.
Double or two-car garage
This kind of garage can hold two vehicles parked side-by-side. Because there is ample space, it can have two separate doors or a single door. The total area is roughly 28 to 30 square meters.
Double or tandem garage
This garage has slim dimensions and has only one door for the cars to get in and out. While this can accommodate two vehicles, they must be parked in front of the other.
Three-car garage
This is the biggest type of garage and can allow room for vehicles, plus turn it into a storage and workspace.
Four-car garage
This is practically a mansion with a car garage that can fit four rides. These are usually reserved for the grandest homes or people who collect cars as a hobby.
Garages for single car spaces
If you are looking for a single car garage, here are some options that may interest you.
The Everest is a uniquely designed, strong steel garage from SOJAG. It is made from durable corrosion-resistant Galvalume steel, plated with aluminum, zinc, and silicone. The Everest features a stylish premium textured paint finish giving the steel extra protection. The garage has exceptional wind and snow load ratings to withstand extreme weather. You can get an Everest in various lengths, including up to 30 feet. The Everest Garage Series from SOJAG is manufactured and designed to meet premium quality standards and superior strength.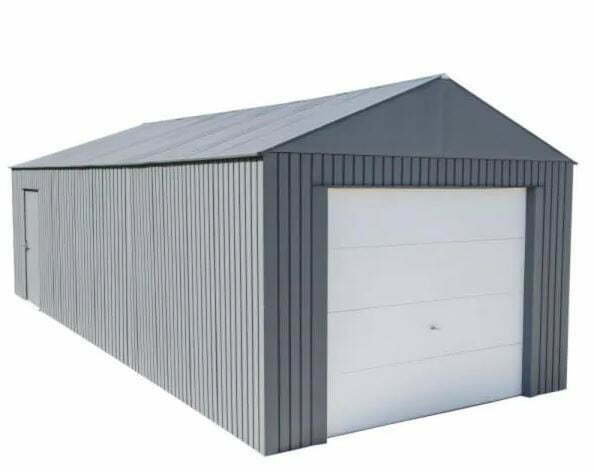 Highlights:
Tough and Durable
Endures Harsh Weather
Solid and Durable Side Door
Expandable
Unique Color Scheme
The Glenwood garage kit is a spacious and beautiful single-car garage. The Glenwood is designed with high headroom and an 8 ft. x 7 ft. garage door opening. You purchase locally to match the style of your home, making this perfect for your vehicle, storage, or work area. Featuring a large loft area for additional storage.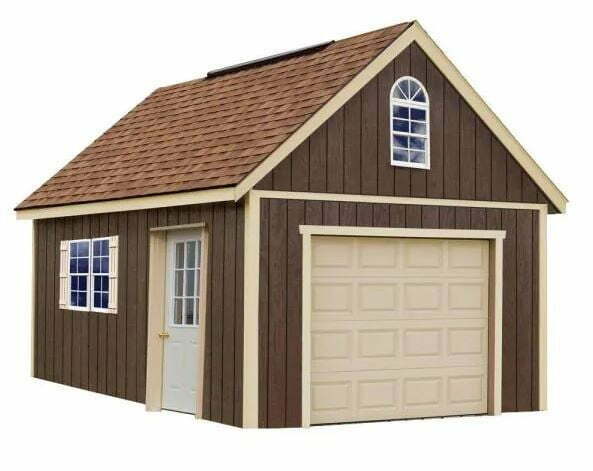 Highlights:
Sturdy-built engineered truss system provides for 90 MPH wind loads and 130 per sq. ft. snow load.
Premium LP smart side paneling grooved 8 in. O.C. treated to resist fungal decay and insect infestation carries a 50-year limited warranty, siding is primed ready to paint.
Wall construction 24 in. O.C.
Large loft area 8 ft. wide with 4 ft. – 3 in. headroom
The Dover Wood Garage Kit with its 8 ft. W x 7 ft. H door opening allows enough room for a single car, small truck, or SUV. The carriage house-style doors make for an attractive look to compliment your home and property. The Dover's wall height of 8 ft. 1 in. provides great headroom and plenty of room for storage shelves and space to organize your tools and other items.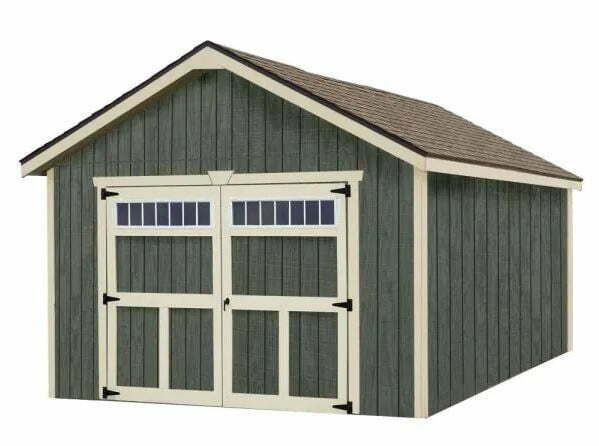 Highlights:
Premium LP smart side paneling grooved 8 in. O.C. treated to resist fungal decay and insect infestation carries a 50-year limited warranty, siding is primed ready to paint.
Pre-built carriage house doors with transom windows
Premium grade 2 x 4 construction spaced 24 in. O.C.
ShelterCoat garages are the ideal compact storage solution for ATVs, lawn and garden equipment, small tractors, patio furniture, pool supplies, tools and equipment, and bulk storage.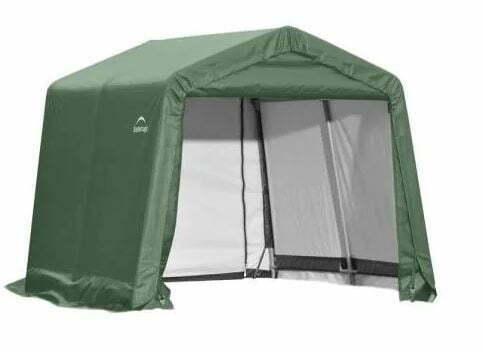 Highlights:
Premium powder-coat finish protects frame from corrosion and rust
The ripstop tough advanced engineered polyethylene fabric cover is UV treated inside, outside and in between heat-welded seams, not stitched, are 100% waterproof
Patented ShelterLock stabilizers at every rib connection for rock-solid strength and stability
Ratchet tie tension system and easy-slide cross rails keep the cover smooth and taut
Add storage space and good looks to your property with the Murry hill garage. This prefab building is designed to hold nearly anything you want to store. It features tall 94 in. walls topped with a high-gable roof for ample headroom, perfect for tall items and vertical storage shelves. If you're storing wide or bulky items like a car, boat, or lawn equipment, you'll appreciate the 106.5 in. x 91.75 in. roll-up door. In addition to storage, the Murry hill Garage does a spacious workshop for all projects. It provides room for tool benches, woodworking, automotive equipment, and more.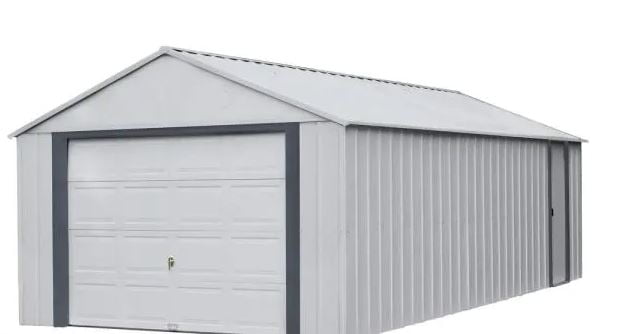 Highlights:
Steel frame construction
Space for you and your equipment
Easy entry options
Appealing 2 tone aesthetics
Read: Types of window locks, plus the best smart lock money can buy