Types of Closets for Tiny Spaces
Looking for the right type of closet to fit in a small space? We hear you, closets are a key piece of furniture, and getting to know about the different types of closets is the right place to start before making any big decisions—the reason why today we'll be telling you about the types of closets for small rooms.
A closet should first and foremost help you maximize space and work with your home's entire ambiance; if you live in a small home, your closet should go accordingly; you get the idea. This is all the more reason why you shouldn't rush a decision with such an important piece of furniture. Making this decision is as important as choosing the right Mudroom Lockers for your Small Home, you should look for the perfect one that fits your needs and space.
Closets not only offer a space to stores clothing and other items in their drawers but can also become a stylish piece, an item that effortlessly works with the rest of your décor. So although it may seem a little tricky trying to fit one in a small room, there's no reason to panic. Check out different types of closets for small homes below.
Types of closets
Different types of closets can be found; check out some of the most common ones.
Reach-in closet
A reach-in closet is an effective and compact way of storing your clothes and keep them organized. These can go in your bedroom or hallway, thanks to their smaller size. Also, a popular choice because items stored inside are easily accessible.
Pantry
Instead of organizing clothing, purses, and shoes, your pantry is meant to go in the kitchen and be filled with food. That's right, in terms of storage, a pantry is also considered a closet.
Wardrobe
Wardrobe closets offer the alternative of adding a closet without spending too much money or having to renovate your house. This is similar to a reach-in closet. However, you can move around a wardrobe closet with ease.
Walk-in-closet
These are the dream; a walking closet certainly takes a huge amount of space; it is basically a whole other room; however, due to that same fact, they also offer a whole lot of storage space. As the name indicates, these are big enough to walk inside of them.
Linen closet
These are the total opposite to walk-in-closets. Linen closets are essentially a smaller version of a reach-in closet. They are generally narrow and are located in hallways between bathrooms and bedrooms.
If you have a small space or want to store your clothing, a linen closet is a safe bet.
Utility closet
These are similar to a rich-in-closet in appearance; the difference relies on the type of items you store inside. Utility closets are great to hold essential tools or other items that aren't clothes.
Things to consider when choosing a closet
Type
Now that you know the basic types of closets, you need to determine which type is the most convenient for your storage needs.
Location
Think about where you want your closet to go; closets for food and utilities do not in the same spot as closets for clothing.
Users
If the closet is meant for your kid's bedroom, decide what will work best for them. Are they tall enough for a wardrobe closet, or will they do better with a linen closet?
Doors
You'll be able to choose between hinged, sliding, and folding doors.
Storage capacity
This element goes without saying; think about the items you intent to store in your closet and go from there.
Types of closets for small homes
Cube Panel is made of a high-classed resin material that is very strong to bear heavyweight, woven fabric like and slim to offer maximum storage space.
Each cube can support more than 22 lbs and 14″ x 14″ x 18″ large, can store 25 shirts or 15 dresses in a single cube. Great storage space to store clothes, bags, accessories, shoes, and many other things you want! A closet can be shaped by your DIY in any way that suits your spaces and needs; it just depends on how you structure the cube.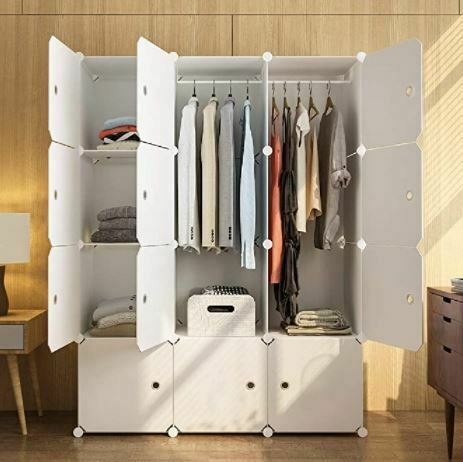 Features:
Easier to install and maintain than traditional wardrobes
Easier to clean than fabric wardrobes
Modular configuration to meet different needs
Breathable than wooden wardrobes
The design allows for easy hanging with cubby spaces and side pockets for smaller items that are often hard to find. It makes organizing so easy but does not take up much space at the same time.
The hanging closet organizer is made from a durable and thick non-woven; this is built to last. Unlike some similar products, this one has a bamboo insert at every opening and has an MDF board at the top and bottom.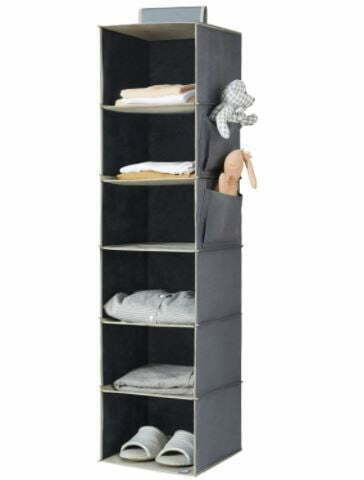 Features:
Material: Non-woven fabric + MDF board + Bamboo
Saves space
Six compartments
The organizer is made from high-quality, odorless, three-ply composite non-woven fabric, promoting ventilation and protecting your stored things. Please note that they are just fabric bags with no metal support inside, which is super easy to fold away into a drawer or cabinet to save space.
The handles are sewn with two layers of thick fabric for double load-bearing capacity. Reinforced seams are also implemented for added strength.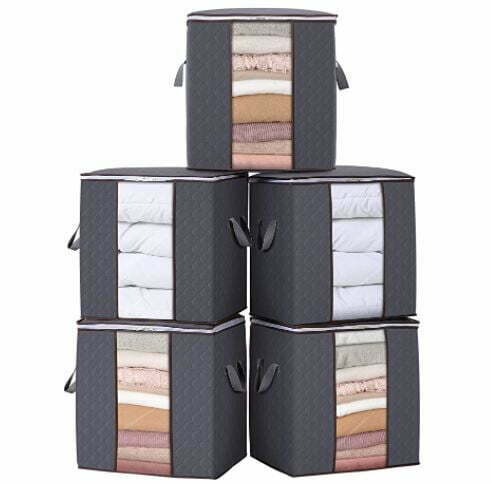 Features:
Reinforced Handle
Premium Material
Sturdy Zipper
Clear Window
Closet organization is easy with the ClosetMaid all-in-one ShelfTrack Closet Organizer kit. The ShelfTrack is an adjustable standard and bracket program, allowing you to move shelves up and down for easy adjustability. Plus, this wire closet kit features SuperSlide hang rods that attach to the shelving for continuous slide for hangers. Kit includes hanging track, standards, shelf brackets, closet rods, closet rod support, and SuperSlide shelves.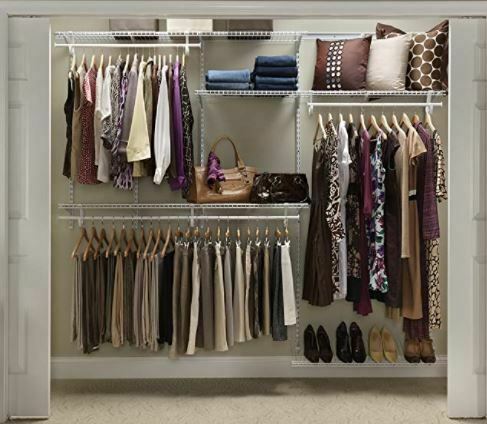 Features:
Fits Closet Wall Widths: 5-8 ft. Wide
Easy-To-Adjust Ventilated Wire Shelves
SuperSlide Accessories for Access to Hanging Items
Easily Cut to Fit Your Space
Shelf and Hanging Storage Capacity
The portable wardrobe has a great deal of room for you to store a lot of stuff. It is divided into sections which include shelves, hanger sections, and side pockets for your convenience.
The removable cover is made of durable fabric with a zipper closure which can keep your item away from dust, bugs, and moisture. The non-woven fabric is breathable and easy to clean. With Velcro, the cloth cover can be rolled up and fixed or put down and closed with a zipper.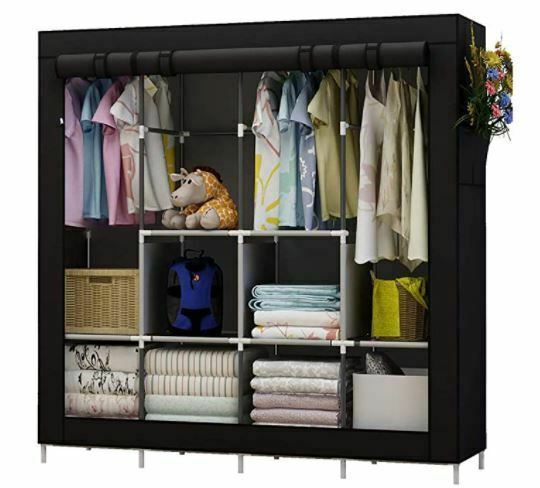 Features:
Hang clothes and store other items
Easy to assemble, disassemble, pack up and reassemble at your destination
It is made of non-woven breathable fabric
With pockets on sides
This portable closet will always work great to keep your space organized, whether in your hallway, living room, or bedroom.
Just grab your shirt from the hanging rail, pants, socks, and hats from the shelves; getting ready has never been this easy when you have this fabric closet keeping everything in one place.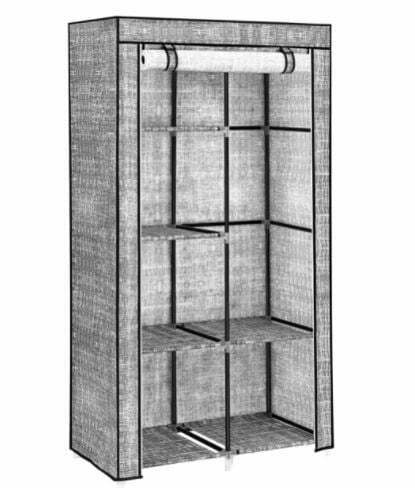 Features:
Color: Gray
Material: Non-Woven Fabric, Metal Tube, Plastic Connector
Product Size: 34.6"L x 17.7"W x 66.1"H (88 x 45 x 168 cm)
Product Weight: 7.5 lb (3.4 kg)
Made from lightweight, breathable polyester fabric, the hanging closet organizer hooks securely to the closet rod, providing additional shelving for your closet.
6-Shelf fabric closet organizer allows you to stow away clothes, shoes, hats, handbags easily and efficiently within your closet, laundry room, and bedroom. Perfect for small spaces like college dorms or apartments.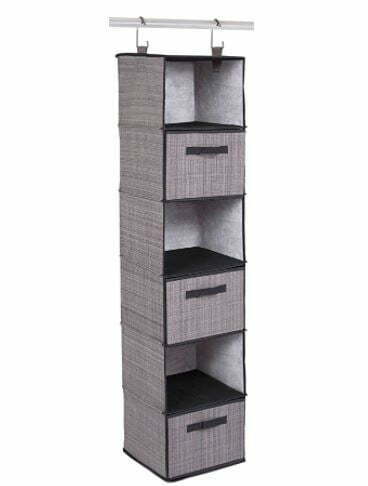 Features:
Lightweight and efficient
Removable drawers
Durable