Are you searching for the best ceiling fan in the market? Then chances are you should first get to know the different types of ceiling fans to make the right choice for you. Luckily, you have come to the right place because we'll be sharing with you different ceiling fans options and where you can find them.
Ceiling fans have been around for years and have evolved a lot; modern and unique ceiling fans offer function and style to your favorite spaces and have become a staple item at most homes. In addition to the purpose of décor and style, ceiling fans offer several benefits, like keeping your energy bill low by circulating air throughout the rooms in your home.
However, choosing a ceiling can be a little overwhelming. Getting to know about the different ceiling fans will help you to know what features suit you best and the pros and cons of each. Now that you know how important it is to know about the types of ceiling fans, grab pen and paper, and let's get to it.
Types of Ceiling Fans
Standard Ceiling Fans
Standard ceiling fans are the most common type; you can find them at most homes. They are versatile and come in a variety of styles that can match almost any décor.
Generally, this type of fan will feature at least four or five blades, various operating mechanisms, and a light fixture built into it.
This is a modern style with double-faced white/silver blades and stylish nickel-plated motor housing.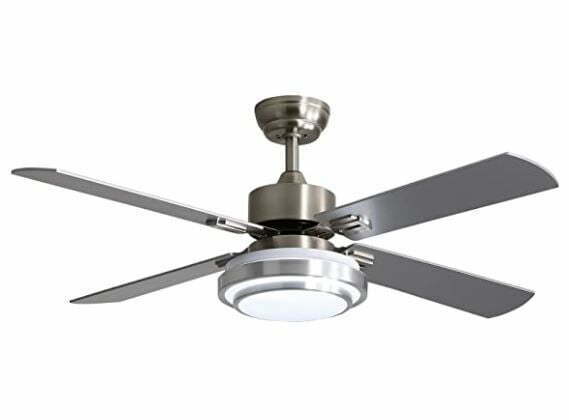 Features:
It contains two down rods
LED has higher brightness
Multifunctional fan
Silent Reversible Motor
Product Guarantee
Low Profile Ceiling Fans
These are also known as hugger fans or flush mount ceiling fans and are suitable for homes where the ceilings are less than eight feet tall. Low-profile ceiling fans can be customized just as easily as most other fans can. The only difference is that you do not need to worry about a down rod or the fixture that attaches the down rod to the ceiling.
This powerful ceiling fan is equipped with a 35W DC motor and Three wooden fan blades that provide a 178 RPM spin and an incredible 5021 CFM – an airflow efficiency of nearly 51 CFM/W.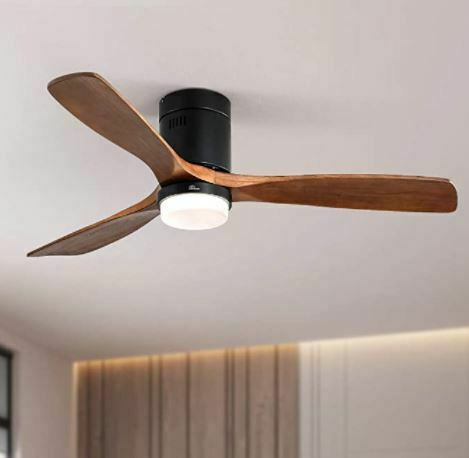 Features:
Ultra-efficient energy saving
1/4/8 timing function
6-speed reversible switch
178 RPM
Seasonal Performance Feature
Remote Operated
Energy Star Ceiling Fans
This type of fan is great for those looking for options that are exceptionally better for the environment. Energy Star-rated ceiling fans are available in standard and low-profile options like other fans. However, the difference relies on that these models must use 20-30% less energy than what federal standards require.
Climate Pledge Friendly uses sustainability certifications to highlight products that support our commitment to helping preserve the natural world.
The energy-efficient fan provides optimal airflow while complementing the décor of almost every room. The fan is recognized for integrated LED technology that consists of the highest quality LED chipsets for ultimate performance.
The 3-blade indoor fan has a sleek modern silhouette, a DC motor, and super energy-efficiency – making it the most reliable choice among interior designers and electricians.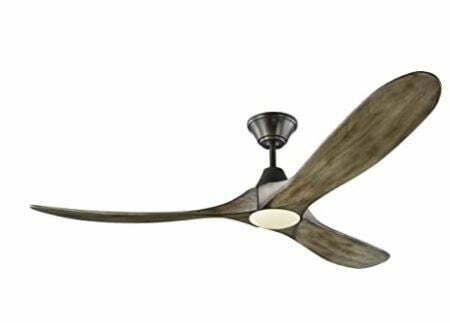 Features:
Light Grey Weathered Oak Finish Blades
Integrated LED technology
6-speed reversible motor
13-degree blade pitch
Triple capacitor
Energy efficient
Dual Motor Ceiling Fans
As you may imagine, these fans get their name because they come with not one but two motors. These are generally more decorative than traditional, and the motors can be set at different speeds, the reason why they cover a wider area and are suitable for public spaces.
This comes with different speeds, will oscillate or stay still, you can turn the light off or on to your preference, and it blows air, not just circulate air.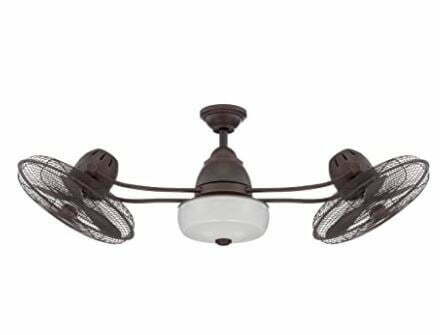 Features:
2 Heavy Duty, 3-Speed Motors
IC Remote & Wall Controls (Included)
Dual Mount (Flat or angled ceiling)
Optional Blank Light Lens Cover (Included)
Suitable for Damp Locations
Remote On/Off or Dimming
Remote-Controlled Ceiling Fans
Most fan types are available with remote controls; this is a great feature for anyone with mobility issues and is also suitable for homeowners with really high ceilings and large event rooms like auditoriums. The remote control features are extremely convenient in daily use to control the ceiling fan light kit from a distance; you can easily start/ stop/ switch the ceiling fan and the light just by pressing a button.
It's the best combination of the ceiling fan and the light, stylish and generous design, equipped with ultra-quiet and reversible motor, provide you strong wind and beautiful light, universally suitable for living room, bedroom, guestroom, dining room, etc.
The fan speed and light can be controlled separately by remote control, a high-mid-low switch for the fan, on-off switch for the light. It's effortless and convenient to control from a distance.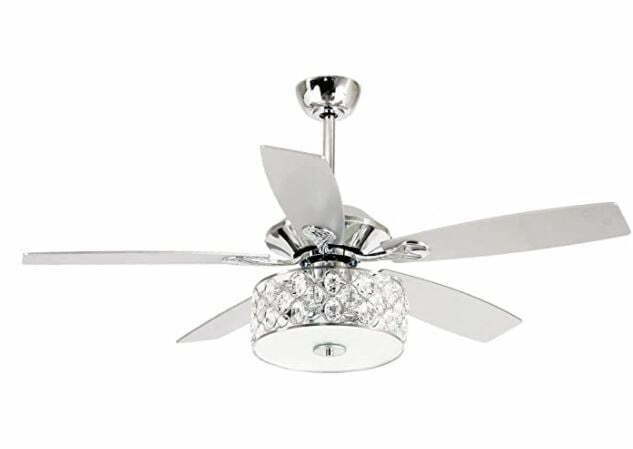 Features:
Whisper-quiet motor
Remote control
Reversible blades
Timing function
Easy to install
Damp & Wet Ceiling Fans
this type of fan has been designed with motors that resist damages due to moisture and humidity, so if you live in a humid location or an area that frequently rains, a damp & wet ceiling fan is what you need.
The Minka Aire Java 54″ 3-Blade LED Ceiling Fan in a Brushed Nickel Wet Finish (Integrated 17 Watt LED Light Included) features a sleek, contemporary design, making it perfect for indoor or outdoor use (UL Listed for wet locations). This 54. ceiling fan whirs effortlessly through heat waves and dry spells.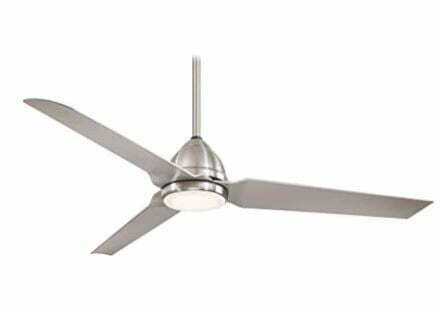 Features:
Color: Brushed Nickel
Brand: Minka
Special Feature: 3 Speed and On/Off, Light Hand-Held Remote Control / Reverse Capable – Yes / Dimmable – Yes
Material: Blade Material: ABS CONSTRUCTION
Style: Contemporary
Types of Ceiling Fans – Industrial, Agricultural & Commercial Ceiling Fans
As you may imagine, this type of fan comes with heavy-duty motors, required for extensive areas. Industrial fans with curved blades can be mounted up to 25 feet, and those with straight blades are optimal for very high ceilings. You can find these at warehouses, gymnasiums, and other huge spaces.
Agricultural are those made specifically for barns, poultry buildings and greenhouses, but can also be used on covered porches. And commercial ceiling fans are those standard and industrial fans you see in classrooms, retail stores, restaurants, and other places of business.
Up to 2,700 Sq. Ft. of coverage with one fan, more than several smaller ceiling fans combined. This is a BIG industrial fan for your covered outdoor or indoor needs.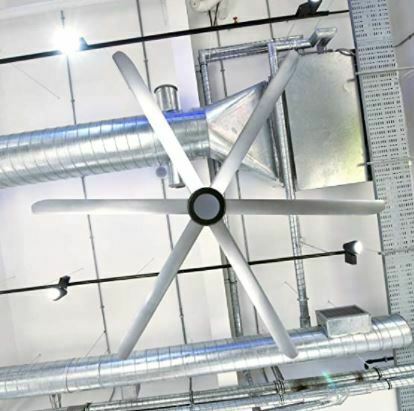 Features:
Color: Anodized Aluminum
Brand: BigAir
Material: Aluminum
Style: Modern
Finish Type: Powder Coated
Things to keep in mind
Fan size and square footage of the designated room
As a general rule, the larger space you are planning on installing your ceiling fan, the bigger the fan should be. To know the size of your fan, you'll first need to measure the size of the space that you want to cool.
Ceiling height and down rod length
The height of the down rod is also another essential factor. Generally, if your ceiling is 10 feet or higher, you will add one foot of rod for every two feet of ceiling space.
Read: Find out about the top 20 different types of door stops.