So you've finally decided to get the bookcase you've wanted for a while. When looking around to buy a bookcase, it can be a little confusing which way to go; the reason why we're here to help to make your decision a lot easier. Get to know different types of bunk bookcases and make the right choice for your needs.
It is totally normal if you feel like you have trouble finding one that's modern and, at the same time, that can match the style of the rest of your house. These are all valid considerations, and you don't want to rush a decision, especially when buying an item that you'll see daily and will be around for years.
Bookcases do not have to be boring; nowadays, there are tons of designs, styles, and materials that will certainly meet your expectations. Bookcases add a touch of décor to your space but also offer practicality. In other words, you want them to look good, but also you want them to be able to hold your stuff. We get it, and we've got you covered; with the next types of bookcases, you'll surely find something for you.
Things to keep in mind when buying a bookcase
Material
Bookcases come in a variety of materials, including:
Solid hardwood: Examples of solid hardwood are maple, walnut, or oak. Bookcases made of solid hardwood are often more pricey and generally heavier.
Wood veneer: These bookcases are covered in a thin layer of wood such as plywood.
Metal: These study bookcases are generally made of stainless steel or iron.
Types
Depending on what you're looking for, bookcases are classified into different types:
Vertical: Are those which usually come with two and eight shelves.
Horizontal: Horizontal bookcases generally are made with two or three wide shelves.
Cube: Those which replace shelves for cubed compartments.
Modular: In a modular bookcase, users purchase two or more interlocking pieces and combine them to suit their needs.
Ladder/leaning: These get their name because they balance against or mounts to a wall at an angle.
Folding: With sides that fold and removable shelves, folding bookcases are a fantastic space-saving solution.
Corner: Their fan-shaped shelves are wider in the front and narrower in the back.
Wall-fixed: These are mounted and can be positioned at any height.
Size and Capacity
To determine the size and capacity of the bookcase you are looking for. First, you need to decide where you want your bookcase to go in your house. Also very important, you need to take measurements of the space where your bookcase will go. Once you know your location take measurements and look for a bookshelf that fits the space.
Also, consider the overall size of the room.
Determine if the bookcase is suitable for the area
Think about the type of bookcase, the number of shelves, and the total amount of shelf space.
Evaluate the number of books and their respective sizes
Types of Bookcases by Color and Finish
Another important element to get the bookcase of your dreams is the color and finish of each bookcase.
Look at the color of the home's walls, flooring, reading chairs, and other furniture items, and any artwork or decorations to find a bookcase that looks as if it was always there.
Style
Bookcases can be found in different styles:
Traditional: What you see is what you'd expect from a bookcase, nothing too relevant. Evenly proportioned and usually crafted from wood. These also may come with carved details or accents.
Modern: Modern units are often made of chrome or stainless steel and incorporate minimalistic designs.
Contemporary: You can expect from a contemporary bookcase the latest trends and styles.
Midcentury modern: If you want your bookcase to give you 1950s and 1960s vibes, then these may have decorative details and offer a retro feel.
Rustic: These units can make you feel as if you are in a cottage in the countryside.
Coastal: You can expect a beachside style; these bookcases are crafted from materials with a weathered or sun-bleached appearance.
Industrial: Expect heavy-duty metals and wood; these bookcases often deliver a more masculine or rugged feel to space.
Flexibility
This is a feature you also want to keep in mind:
Wheels: If you want your bookcase to move with ease, then consider getting one that has wheels.
Adjustable shelves: Set the height of each shelf to accommodate taller books or your favorite decorations.
Storage cabinets: Well, these are a must to keep a clutter-free look.
Room divider functionality: These offer an effortless feel while dividing a room.
Types of Bookcases
Check out the following choices for you to consider
This 5-tier bookshelf is perfect for the living room, bedroom, entryway, study, and office. The geometric modern design creates a sophisticated space to organize and display décor, offering enough space to hold books, photos, collectibles, and more.
The bookcase is constructed of a high-grade honeycomb board that enhances strength and durability. A sturdy metal frame with a thick metal tube ensures a better load-bearing and stability of up to 30lbs for each shelf.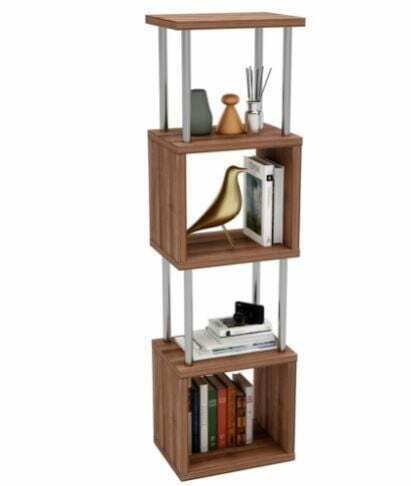 Features:
Geometrical Aesthetics
Multi-Purpose Usages
Make Full Use of Space
Large Load Capacity
Solid & Safe Construction
P2 Grade Honeycomb Board
Combining the industrial look of steel with the warmth of wood, this shelving has a clean, contemporary design; Corner design greatly increases storage space, its multiple shelving giving versatile decorating options. This bookshelf's industrial-chic looks match an array of modern furniture, and you can mix and match to create your perfect room.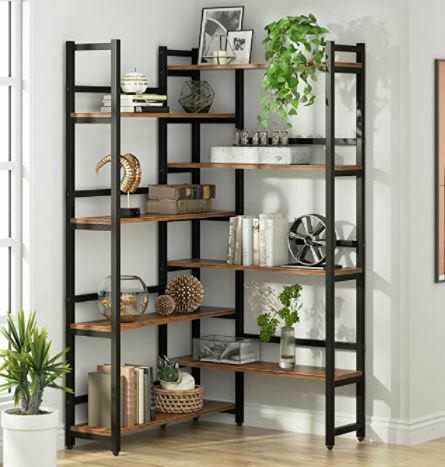 Features:
Corner Design
8 Tier Large Storage Capacity
Industrial Style
Multifunctional Storage Shelf
Materials: Steel and MDF
The simple and clean-lined design adds the industrially refined sensation to any space, making it the perfect addition to all kinds of retro-style decoration, homes, restaurants, cafes, offices, and other places.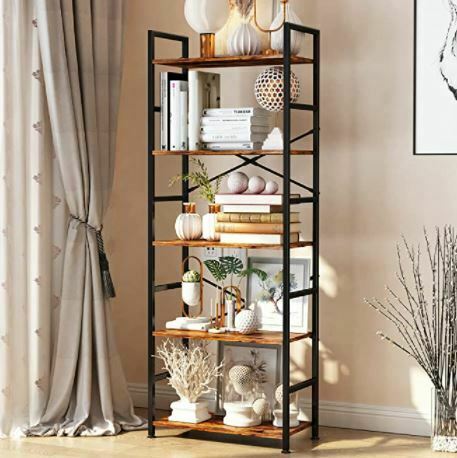 Features:
Item Dimensions: 23.6″(L) x 11.8″(W) x 62.8″(H)
Item Weight: 30 pounds
Max Load Capacity of Each Tier: 30 LBS
Height Between Each Shelf: 13.4 inch
Material: Crafted of wrought metal in a matte black finish and high-quality MDF with wood grain PVC finish
The high-Quality ABS connector secures the whole structure firmly. The thickened PP panel is durable and can hold more things; all the materials ensure the product a sturdy and balanced structure, and the shelf is made of water-proof and dirt-proof non-woven fabric; it is straightforward to clean.
The cube storage organizer is a Perfect for keeping shoes, books, clothes; this cube organizer can be used as a bookshelf, shoe rack, Wardrobe, toy cabinet, or display shelf.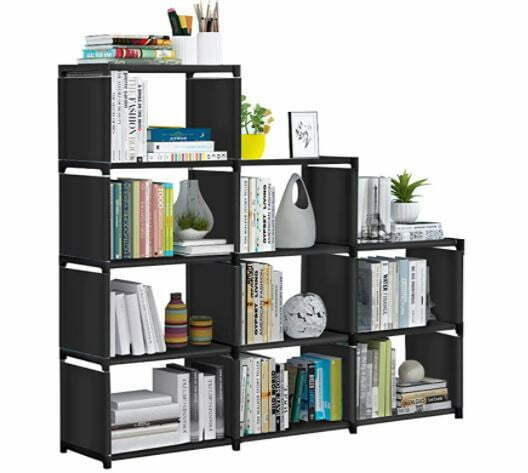 Features:
Multifunctional Storage
Durable and Health Material
Strong Storage Ability
Easy assembly
Purchase with Worry-Free
The rustic tree-shaped shelves for an old-time classic, with an attractive vintage appearance and functional design. Beautiful platforms are perfect for displaying your decorations, family photos, novels, speakers, or plants. This wood bookshelf is suitable for any room and is a perfect furniture piece.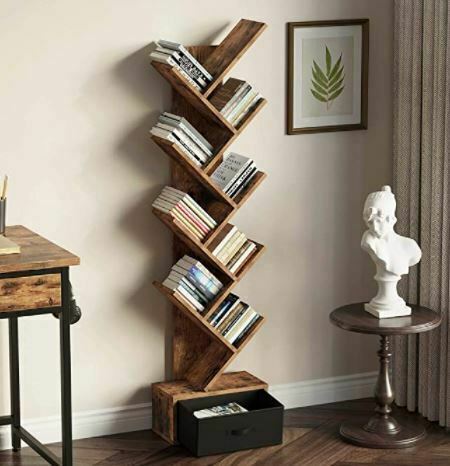 Features:
Ample storage space
Color: Rustic Brown
Material: Particle Board
Product Weight: 9.3/24.4LB
Size: 23.6″H*11.8″L*"6.7″W/58.7"H* 14.9"L* 8.1"W
Books, pictures, and mementos can quickly pile up and create clutter, but this bookcase is a stylish way to make additional storage space in virtually any area of your home or office. The adjustable shelves allow you to accommodate even unusually sized items.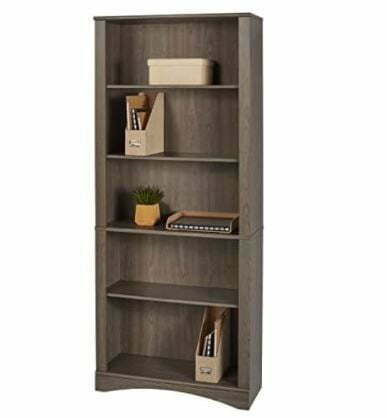 Features:
Stylish design
Spacious shelving displays
One fixed and three adjustable shelves
This 2-shelf bookcase can add crisp, clean style to your home décor. It comes with a large adjustable shelf that is ideal for storing and displaying your collection of favorite books, decorative plants, work binders, and your assortment of knick-knacks too. It has room for all your stuff! The adjustable shelf has the ability to move to different heights to create flexible storage options for items of all shapes and sizes.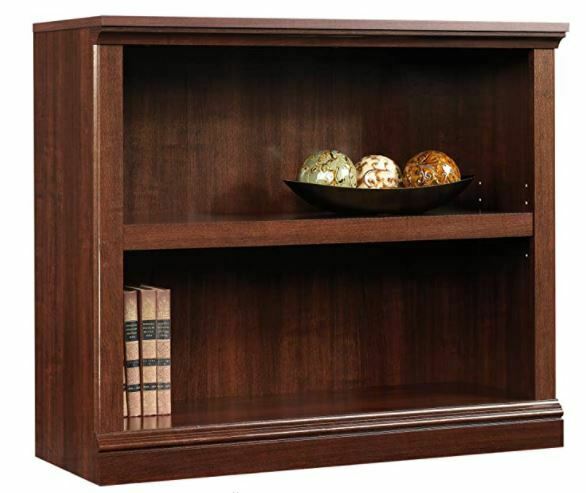 Features:
One adjustable shelf for flexible storage options
Quick and easy assembly
Patented slide-on moldings to save you time
Select Cherry finish
Engineered wood construction