Mudroom Lockers What are they?
Wishing to keep shoes, bags, umbrellas, and stuff lying all over the place tidy and nice? Then you probably need a mudroom locker. A mudroom locker can help you transform what now may look like a messy room into a once completely different one. The reason why today, we'll be telling you all about the types of mudroom lockers.
It is completely understandable to get a little overwhelmed with so many options out there. It can be a little confusing to find that perfect model that will become the perfect complement for your space, but that will also fulfill an important duty. These are all valid considerations, plus you don't want to rush a decision, especially when buying an item that you'll see daily and is meant to be around for a long while.
Mudroom lockers are parents' best friends when it comes to keeping all of your kids' stuff organized. With a mudroom locker holding everything in place, you won't have to step into a room and twist your ankles ever again. Now that you know how helpful a mudroom locker can be, it's to get to know the types of mudroom lockers.
How to Choose a Mudroom Locker
Design: When it comes to mudroom lockers, you can choose between simple and more decorative options. It all depends on your individual taste.
Benches included: This is a cool feature to include; mudroom lockers with benches are useful for sitting or putting shoes on.
Storage: Some mudroom lockers come with drawers /shelves at the top and/or bottom. Determine how much storage you'll be needing.
Hooks: Convenient for coats and hats.
Materials: Many are wood, but you can find metal ones.
Shoe storage: It's very convenient to have a shoe storage option with small sections at the bottom of your mudroom storage unit.
Tiers and columns: Tiers refer to the number of rows. Columns refer to the number of individual locker units.
Size: Mudroom lockers come in adult and kid's sizes.
10 Types of Mudroom Lockers
Believe it or not, there are numerous mudroom lockers options you can choose from, including single-tier locker, two-tier locker, three, and even four-tier lockers. There are also single or multiple column lockers and a basic shared locker, locker with colorful trim, floating mudroom locker, etc. Let's check 10 options for you to chose from.
1. Three-Tier Mudroom Locker System
This kids locker has a dual double-sided hanger that offers them a place to hang their coats & backpacks. Additionally, there are 2 small cubies above & below to store their lunch boxes, shoes, hats & other belongings.
The open-access design provides easy access & visibility for their personal items. Attractive natural finish fits right into any classroom, daycare, office, mudroom, home.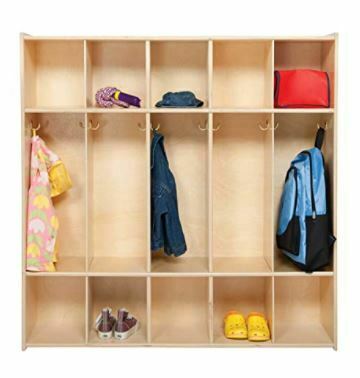 Features:
Ample storage
Efficient design
Easy to clean
Stain-resistant
2. The All In One Mudroom Locker ( Our Favorite )
Organize and style your entryway with the Prepack 60″ Wide HALL Tree. This hall tree will provide all the storage space needed for your entryway belongings. Store your larger items in the 3 upper compartments, and hang your jackets, scarves, purses, and hats on the 6 strong double coat Hooks. A wide bench with plenty of room sits on top of 24 individual shoe cubbies.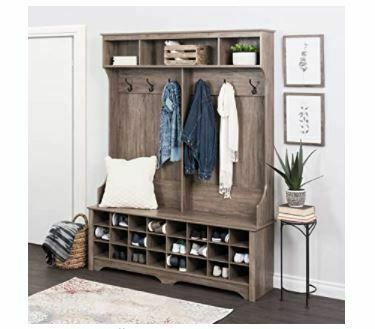 Features:
6 strong double Coat hooks; 24 Individual cubbies are spacious enough to hold a pair of size 13 Men's shoes
Anti-tip restraint included
Weight capacity: Bench = 200 lbs.
3. Entryway Mudroom Locker With Bench
The base feature a wire shelf ideal for hosting shoes or slipper, while up top a row of coat hooks and a garment rod provide the perfect perch for scarves, hats, and coats.
The storage bench is great for sitting on it when wearing shoes; or setting bags, purses, and more as you walk in the door.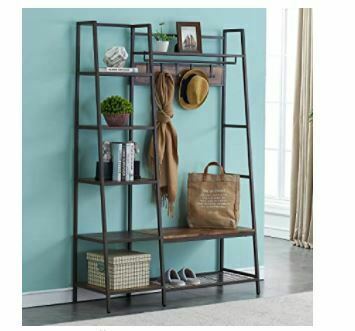 Features:
Garment Rod
Movable Hooks
Adjustable Feet Pad
4. Entryway Coat Mudroom Locker
The matte surface makes the coat shoe rack bench stylish and unique, blending into most style rooms. A perfect combo of shelf, hall tree with shoe storage bench; It is carefully crafted to fit all spaces, whether it's an entryway, hall, foyer, hallway, bedroom, mudroom, or office. The different using designs make your room tidy.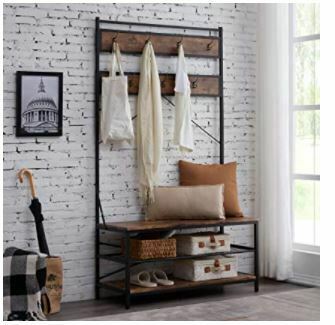 Features:
Stylish look
Industrial style
Made of high-grade MDF
7 hooks
5. Small Entryway Organizer With Shoe Storage
Customize your entryway, hallway, or workspace with this versatile organizer. Fit one organizer in a narrow apartment hallway or combine multiple pieces in a large foyer to create a custom look. This entryway organizer features two double coat hooks and one large upper shelf, which provides an ideal place to store jackets, hats, gloves, mail, car keys, and any other entryway clutter.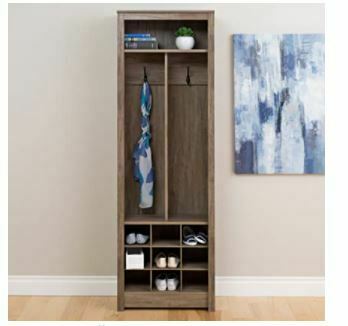 Features:
Finished in drifted Gray laminate
Assembled dimensions: 23.5" W x 72.5" H x 13" D
2 strong double coat hooks
1 open upper shelf
6. Sliding Doors Mudroom Storage Locker
The Cates Wall Storage Cabinet provides function and style with decorative charm. The rustic wooden finish and sliding barn door add a quirky addition to your home décor.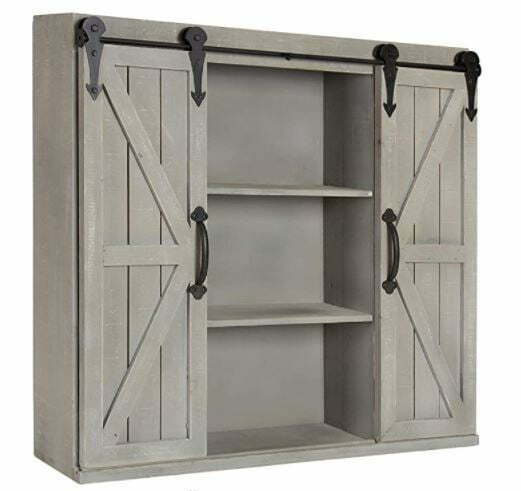 Features:
Wood distressed by hand
Featuring durable wood and rustic iron materials
Available in 1 or 2 door design
Featured in finishes rustic brown, weathered gray, and coastal white
7. Rustic Decorative Mudroom Storage
This contemporary Barnside Metro Hall Tree brings the feel of a cool industrial design to your home. The rustic aged look of weathered wood and the sturdy metal tube frame in powder coated dark grey painted finish provides a modern, inviting, organized feel.
The wire brushed pine veneer over engineered wood in a multi-toned driftwood finish gives a rustic texture to complement the metal frame. The hall tree features a full-sized bench with two slide-out and removable, lower wire basket storage.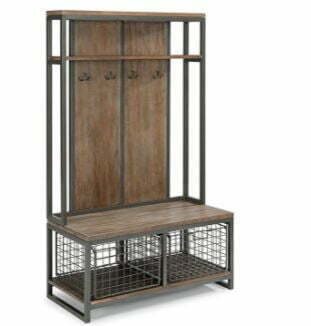 Features:
Wire brushed pine veneer over engineered wood
2 removable wire baskets for storage and organization
Delivered to your door by parcel post service
Ready to assemble upon delivery
8. 1 Tier Small  Room Mudroom Lockers
This wood entryway storage locker is made out of solid knotty pine by Sawdust City.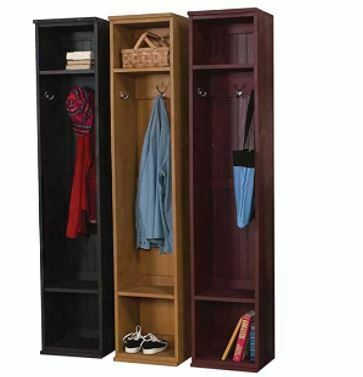 Features:
Overall dimensions: 14″ W x 11.75″ D x 70″ H
11.75″ Clearance bottom cubby
44.75″ clearance middle cubby
9″ clearance top cubby
All openings are 12.5″W x 10.5″ D
9. Bench Mudroom Storage
This entryway shoe storage bench has 8 separate compartments for your favorite shoes to be stored in.
The padded seat cushion on top offers a convenient seating surface for you to sit while putting on the shoes or taking off.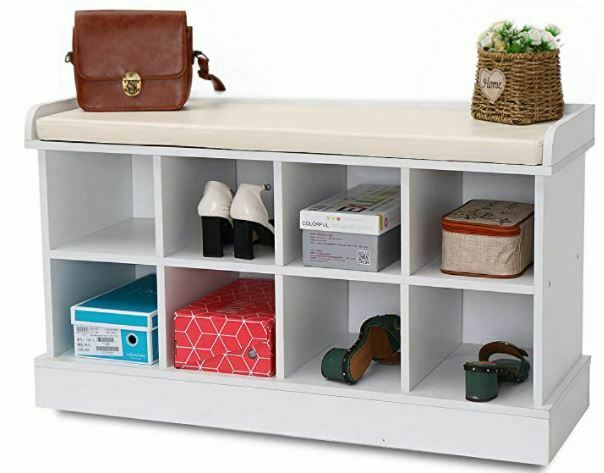 Features:
Material: Wood
Frame Material: Engineered Wood
Self-assembly
10. Metal Mudroom Lockers with Locking Doors
Prevent unauthorized access using our lockset, which comes pre-installed in each of our storage cabinets with doors and shelves. Benefit from a second key, which can be used by co-owners or as a backup in case of loss.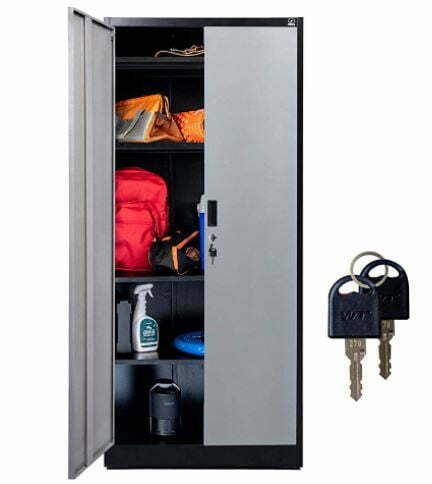 Features:
Sleek design
Shelf Weight Capacity
4 Adjustable Shelves
Lock plus two keys
Closing Thoughts on My 10 Types of Mudroom Lockers Review
Who doesn't want more storage for their entryway? In reality, you don't need a ton of square footage in your home to have a mudroom. Carving out even a small mudroom area in your home will provide more storage space and functionality.
Regardless of your current layout, these mudroom storage ideas are meant for homes of all sizes. We researched the best and top rated Mudroom Lockers that will help you transform your main entryway into an area that will work for your family. Let us know which one you bought.