So you've finally decided to get your kid the bunk bed he's been asking for. When looking around to buy a bunk bed, it can be a little confusing which way to go; the reason why we're here to help to make your decision a lot easier. Get to know 20 different types of bunk beds.
It is totally normal if you feel like you have trouble finding one that's modern and, at the same time, that can match the style of the rest of your house. These are all valid considerations, and you don't want to rush a decision, especially when buying an item that's supposed to last for a few years.
Bunk beds offer several benefits, though most are a safety concern, bunk beds represent a handy way of having an extra bed without it taking up more floor space; and it's, of course, great for kids who share a room or for older kids who have friends over for sleepovers. Check out different types of bunk bends below; guaranteed you'll find something you like.
Bunk Beds By Material
Wooden Bunk Beds
The practical design of this bunk bed lets children have a safe and fun area to sleep in, all while maximizing room space for children to play in. What's more, support slats for both beds are conveniently included in this set and eliminate the need for any additional box spring or foundation. The Dorel Living Brady Twin over Full Bunk Bed can also unstack to become two stand-alone beds for when your kids grow up and want their own space.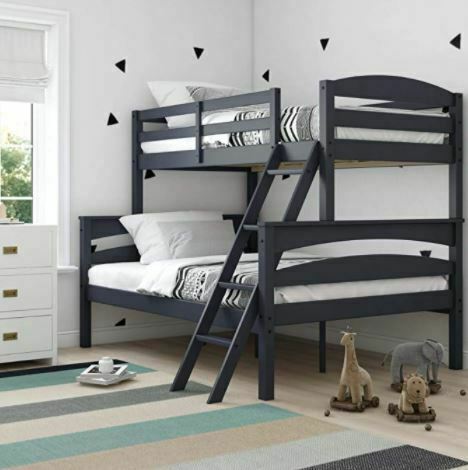 Features:
Sturdy wood construction
Upper guardrail for added safety
Easy-to-climb 4-step angled ladder to reach the top bunk
Convertible Design
Bentwood Slats
Metal Bunk Beds
Comes with a sturdy metal frame with steel construction. This modern, stylish bunk bed features a Twin top bunk over a Full bottom and looks great in any bedroom or guest room arrangement.
Two integrated side ladders come included to provide versatility, and metal slats on the top and bottom beds offer the right amount of support, comfort, and durability. The top bunk accommodates one standard twin-size mattress, and the bottom bunk will hold one standard full-size mattress. The top bunk has a weight limit of 200 pounds, and the bottom bunk will support 450 pounds.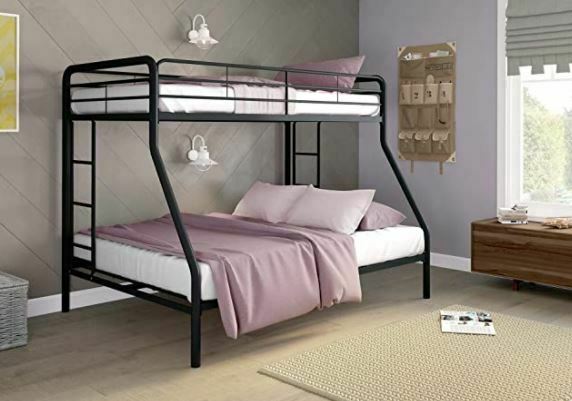 Features:
Two integrated side ladders
Metal slats
Easy to assemble
Accommodates 1 twin and 1 full-size mattress
Bunk Beds By Design
Standard Bunk Beds
This Harper & Bright Designs Twin-Over-Twin Solid Hardwood Bunk Bed is designed with minimal style in mind that effortlessly enhances various room décor types and styles. Supported by a wood frame with smoothed corners and a ladder, it is as functional as eye-catching.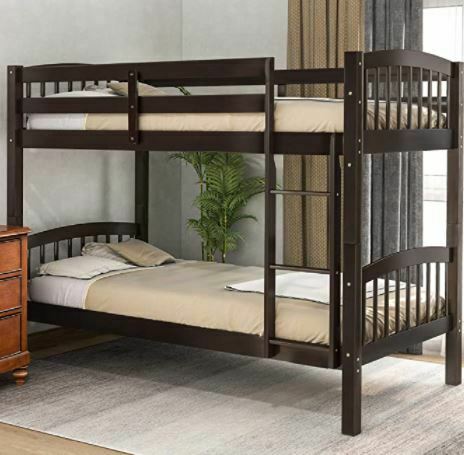 Features:
Dual headboard and footboard
Safeguard railings
Coated in a crisp white finish
Material: Rubberwood, Plywood
Weight Capacity: 150 lbs for upper bed, 200 lbs for the lower bed
This standard loft bed only has one mattress on the top bunk, with floor space below, which can be used for storage, a play area, a study area, or to create more open space within the room.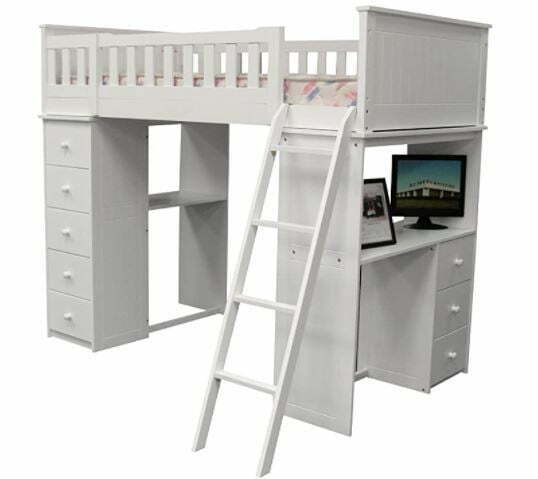 Features:
Comes with a white finish.
Weighs 289-pound
Measures 76-inch length by 42-inch width by 67-inch height
Treehouse Bunk Bed
Adventure awaits in this cozy loft clubhouse bed. The driftwood finish gives a rustic look to any room. Matching driftwood full caster bed included.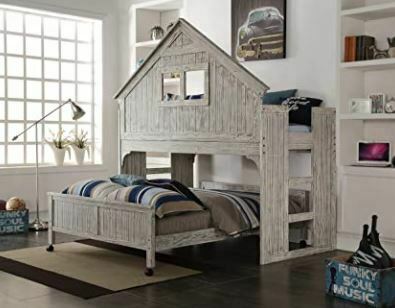 Features:
The bed is on casters for easy moving from under the low loft
Solid Pine Wood Construction
It fits any standard size Twin/Full mattress
Driftwood Finish
Tools and hardware included
Built-In Bunk Beds
This type of bunk bed requires major construction in your house but looks really great. If you can be ready to spend on some tools, buy some wood, or hire a custom builder to do the job for you.
You can build in multiple beds; you often see these bunk rooms are often built-in vacation houses such as lake houses, ski chalets, etc.
Futon Bunk Beds
The Miles Collection features a sleek, streamlined silhouette and clean horizontal lines that can match any room décor.
Made with a Sturdy metal Construction | Includes secured metal slats, 12. 5-Inch full-length guardrails and a ladder integrated into the frame | Ladder can only be placed on one side.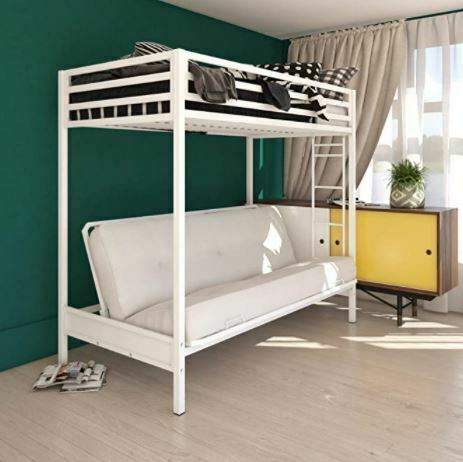 Features:
Trendy Design
Affordable
Quick assembly
Futon that converts into an extra sleeping area
Trundle Bunk Beds
This full-over-full bunk bed is split into two separate beds for complete versatility – especially if you have more than one room to fill.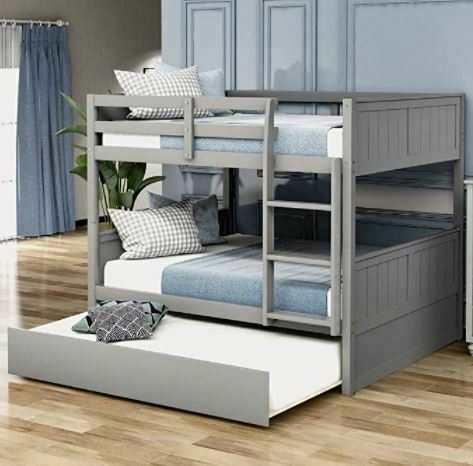 Features:
Pullout trundle bed with removable casters.
Solid rails
Solid pine and plywood construction
Size: Full-Over-Full
L-shaped Bunk Beds
The bunk beds are made from high-quality solid pine wood and composites. It is easily converted into 1 loft bed and 1 daybed. Bunk Beds can be shared in one bedroom, and this unique bed can be used in two separate rooms.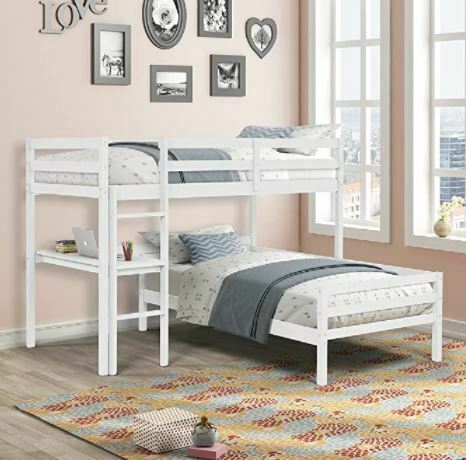 Features:
Loft bed with desk
Sturdy Wood Frame
2 Separate Beds
Guardrail
Loft Bunk Beds
This high loft bed is very suitable for rooms with a small space and can make full use of floor space so that the entire room can be fully utilized.
The metal bed construction prevents the full bed frame from sagging and makes this loft bed more durable and stronger. Including up to 12 bedboard slats adds more support to this bed, making the bunk bed suitable for kids, teens, and adults.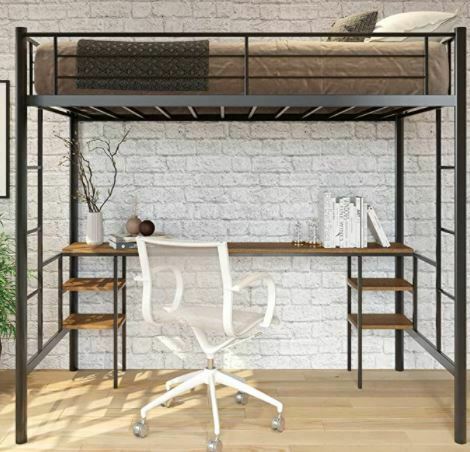 Features:
Two wooden shelves
Large desk
Stylish metal loft bed
Guard rails and double ladder
Sturdy metal bed frame
Novelty Bunk Beds
Solid wood bunk beds for kids, Manufactured Wood + Solid Pine Wood, this wood bunk bed features a sturdy, high-quality solid wood construction for durability and high load capacity, ensuring longevity. This is a versatile Bunk Bed Frame with a Roof, House-Shaped cabin bed, the perfect gift for your kids, and more fun sleeping in this cabin bed with siblings and sleepovers; Bunk beds with a Built-in ladder for space-saving design.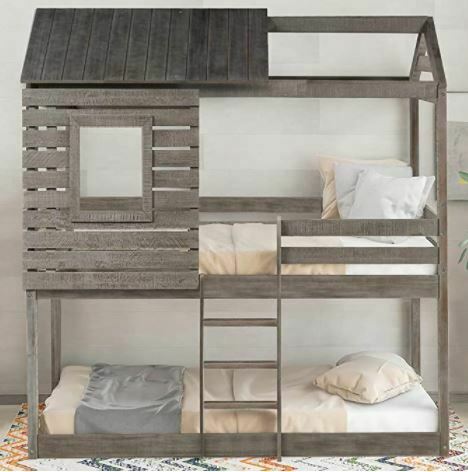 Features:
Size: Twin over Twin
Material: Wood
Form Factor: Captain's Bed, Bunk Bed
Color: Distressed Grey
Different Types of Bunk Beds: Study Bunk Beds
The twin loft bed with desk allows your child to study and write homework, or you can place bed desk wherever you need; they will be practical and valuable. It is equipped with storage drawers and bookcases. You can put something in the cabinet to keep the space tidy and clean; this bookshelf can also place the books you often read, making full use of the space under the bed.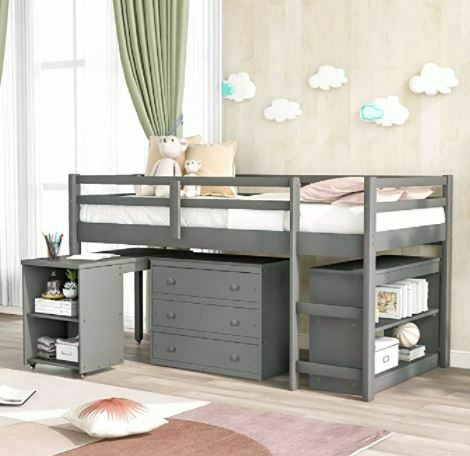 Features:
Full-length guard rails and 3-Rung ladder
Crafted with sturdy high grade manufactured wood
Easy to assemble
Safety and durability
Triple Bunk Beds
A full bed combined with two twin beds, this triple bunk bed provides a convenient and flexible arrangement option for large families and sleepovers by taking advantage of vertical space. This bed can accommodate 3 people to enjoy together.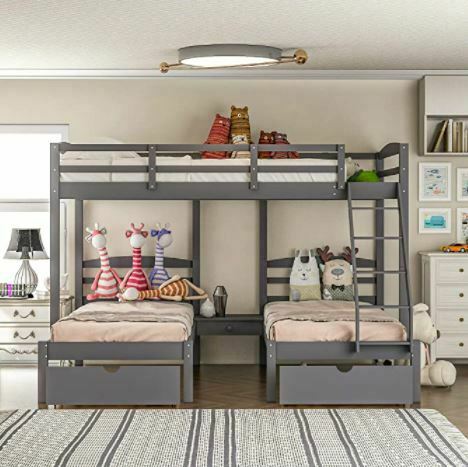 Features:
Two large drawers under lower beds
Size: Triple bed with 3 Drawers
Material: Wood
Color: Dim Gray
Brand: Flieks
Dimensions: 80 x 99.4 x 70 inches
The unique triple bunk bed features 3 twin beds for three kids while taking up little floor space, which especially suitable for rooms with compact space. The ultimate space saver for small rooms, the metal triple bunk bed will be the best addition to your sweet home. Accommodates standard twin-size mattresses.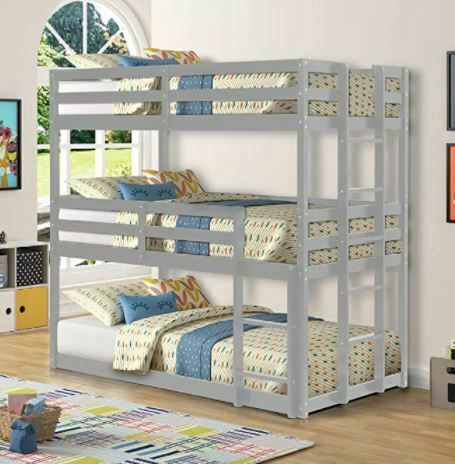 Features:
The wooden bunk bed can also be converted to two separated full beds
With elegant appearance and multiple functions
The full-length guardrail on top
Different Types of Bunk Beds By Style
Traditional
Traditional style like the name indicates offers a kind of timeless look. Traditional bunk beds are those with carved wood construction in a functional but not overly appealing design.
Rustic
This is a style of bunk bed made to provide a natural, woodsy feel. These often come with an unpainted or otherwise natural wood finish.
Country
This style conveys a sense of rural, relaxed old fashion that wouldn't look out of place at a cottage or mountain getaway.
Modern
The modern style emphasizes efficient, clean shapes and a mix of functional and aesthetic values into a unified whole.
Contemporary
This style represents a variety of themes, shapes, and textures that are, at the same time, date, fresh, and original.
Industrial
Industrial styles look to offer a feel of factory tools, utilizing metal and wood in hard-edged, sturdy crafting.