Looking for Bar Stools with Backs
Is your kitchen island or perhaps your mini bar or breakfast table missing some bar stools? If you are thinking about buying or replacing your bar stools with backs, you have some homework. Bar stools come in different materials and designs, so you may want to look into the different options of bar stools with backs first.
It is completely normal to get a little overwhelmed with the options out there. It can be a little complicated to find that perfect model that will become the perfect complement for the kitchen of your dreams. These are all valid considerations, and you don't want to rush a decision, especially when buying an item that you'll see daily and will be around for years.
Bar stools offer quite the ambiance for your kitchen space; besides being the obvious sitting option to eat your food, having bar stools in the kitchen -a space, you spend a lot of time -means you can also hang out comfortably, perhaps reading a magazine. Bar stools are in addition great to entertain guests and spend time congregated around the counter.
Elements to look for in bar stools with backs
Height
Standard bars are around 42" high, so bar stools with a height of 30" sound like a safe bet. However, they also come in different heights. Measure your current table, island, or bar and choose accordingly.
Design
Backless: Perhaps the most common design, however not the most comfortable.
With arms: If you spend a lot of time in your bar stools, then these are the way to go.
Swivel: This is important as it prevents you or your guests from struggling to scoot back and forth from your counter.
Upholstered: Popular choice as they are more comfortable and offer an air of formality to your counter-top dining.
Material
Wood: These are a solid option that can fit with nearly any décor. These are often the most expensive.
Metal: Expect a sleek silhouette, making them especially great in small spaces.
Rattan: These are lightweight, offering a casual, timeless appeal.
10 Types of Bar Stools with Backs
Believe it or not, there are numerous stool back options you can choose from, including high back, low back, solid or full back, mission back, cross back, ladder back, and Windsor back.
Let's check 10 options for you to chose from.
Your back will feel support and comfort with the high back design when sitting on this soft velvet barstool. Also, the metal footrest can well support your feet.
The modern style bar chair is suitable for many scenes; you can put it in your dining room, living room, or bar counter.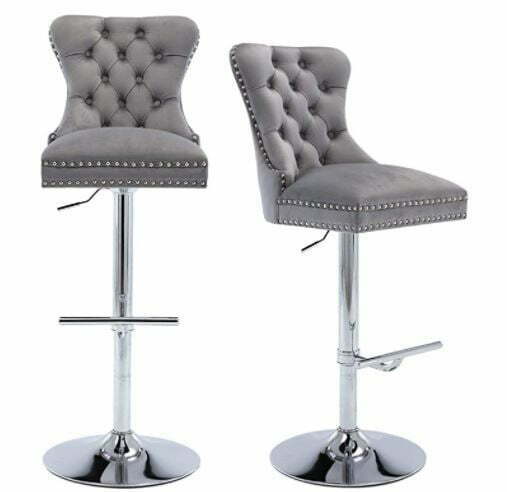 Features:
Comfortable backrest
Stable and sturdy
Height adjustable
Swivel: Yes
Adjustable Height: Yes
Seat Material: Upholstered
Frame Material: Metal
This fun bar stool features an upholstered low-back seat on tall, straight wood legs. Firm padding and a solid wood frame add sturdiness and durability, while the marine blue fabric gives your bar area a nice pop of color.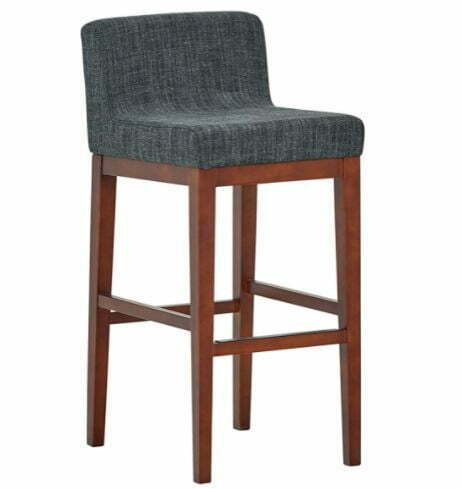 Features:
20″W x 21″D x 41″H. Seat height is 30″
Fabric is 60% polyester/20% linen/20% rayon
Foam padding and elastic suspension system helps keep the seat firm
No assembly required
This is a fantastic solid back option that you can use both indoors and outdoors.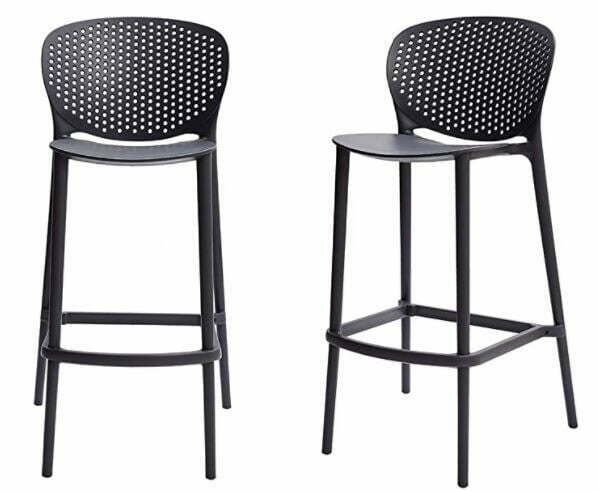 Features:
Set of 2 solid back barstool-style chairs
Clean, simple design with a mid-century modern look
Made with premium injection-molded plastic for durability
Solid backrest, rounded seat, and straight legs with footrest
Lightweight, durable design; no assembly required
This stool is for those who have an incline for high-quality wood furniture with a traditional and elegant look. Made of Parawood, also known as Rubberwood, is considered to be environmentally sound as it uses plantation trees that have been felled at the end of their cycle of latex production, and new trees are grown.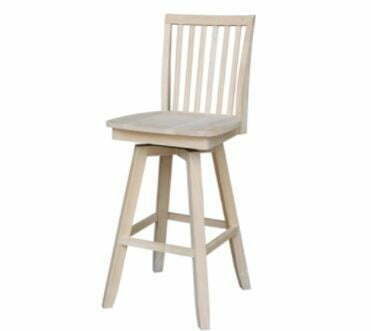 Features:
Ready to assemble
Box seat construction for easy assembly
30″ bar height seat
Solid wood seat
With swivel seat
Rated for residential use only, not intended for commercial use
HOMCOM Traditional Barstool Swivel Bar Chair with Cross Back Design
The crossbuck curved design of this bar chair provides you with back support, the PU leather rounded seat is comfortable to sit on, and the footrest ring allows you to rest your feet on top, so they're not dangling on the ground.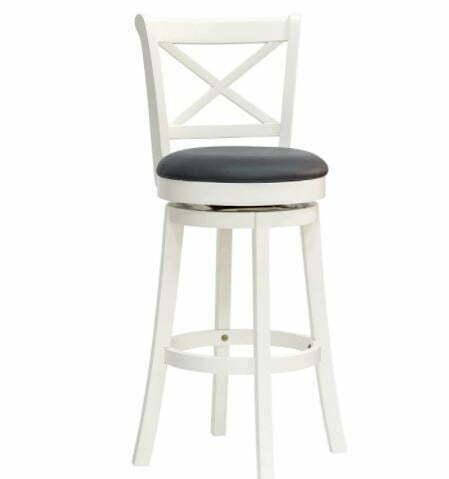 Features:
Swivel seat ensures free rotation
The cross back is classic and sure to elevate your space
PU leather upholstered seating
Sturdy rubberwood frame delivers stability
This ladder back metal barstool is great for commercial spaces and provides a chic, stylish look for your kitchen or dining room.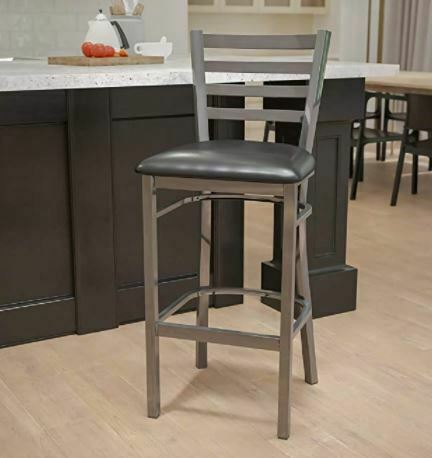 Features:
High-Quality Commercial Grade
Traditional style barstool for restaurant, bar, lounge, kitchen, or dining room
Upholstery, Polyester, Cotton
This classic design, 360-degree swivel seat counter stool, combines style and comfort with its beautiful arrow back with her, detailed legs, and rungs. Crafted from sturdy oak, this solid stool features a lovely medium oak finish.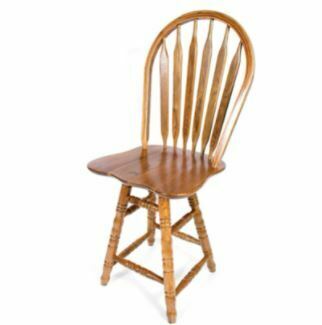 Features:
High-Quality Solid Oak Wood Barstool
360 Degree Swivel for Flexible Movement
Beautiful Medium Oak Finish
Counter or Bar Height
Cushioned and beautiful, this adjustable height stool gives your home a chic modern style that your guests will envy. Use at counter or bar height and always have the perfect fit while the embedded plastic ring ensures the safety of your flooring.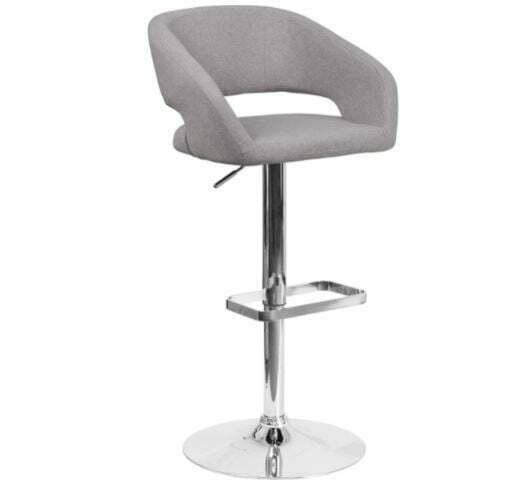 Features:
Rounded mid-back design
Fabric upholstery
Cutout design
Contemporary style
The clean profile of the stool and the silver nailhead trim will lend a modern air of sleek sophistication to your kitchen or bar area.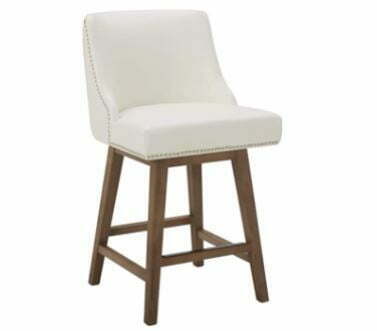 Features:
Frame Material: wood, pass CARB certificate
Filling foam: US standard flame retardant sponge
Perfect design and First-class artistry
Liven up your space with the charming chair that will catch eyes with its unique, stylish charm. It fits perfectly in the bars, kitchen counters, coffee shops, markets, etc.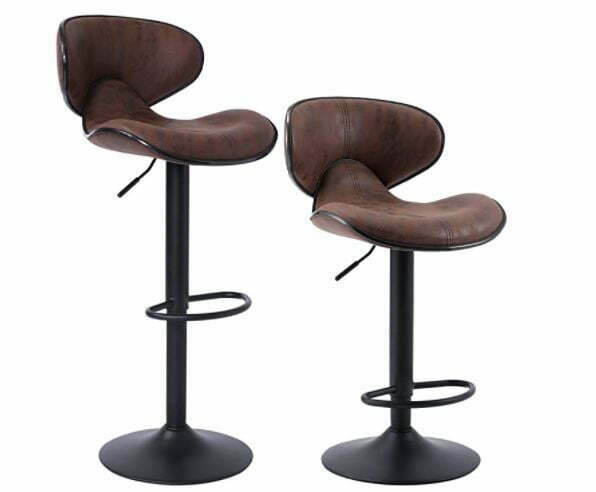 Features:
Pattern patent
Charming design
Stable and sturdy
Extra comfort
Adjustable height