In the lookout for the perfect bird feeder to add to your backyard? Good for you, and because you can never have enough bird feeders, we invite you to learn about the different types of bird feeders to attract the most beautiful birds and do it as the pros do.
Whether you are working on a backyard remodeling or redesign project when it comes to bird feeders, there are a few elements you want to keep in mind, so we totally understand it can get a little confusing trying to make the right choice. You want your bird feeder to withstand the weather, be tight enough to keep seeds, and easy to clean and assemble.
Now that you understand how important it is to pick the right bird feeder, let's get to know about different types of bird feeders, so you can make the right choice for you and get ready to see how the most beautiful birds appear on your patio.
Types of Bird Feeders
If you want to attract the most beautiful birds, you'll likely have to put not just one type of bird feeder; different feeders will likely attract different species of birds. Check out some of the most common bird feeder types and the birds that prefer each type.
Tray Feeders
Tray feeders are also known as platform feeders, and these are the most common type. They allure the widest variety of seed-eating feeder birds.
The best tray feeders have a screened, rather than solid, bottom to promote complete drainage.
Tray feeders have no protection against rain and snow; without good drainage, seeds may become wet enough to sprout, leading to fungal and bacterial growth.
Unless constructed with an effective squirrel baffle on the pole or suspension chain, tray feeders are an open invitation to squirrels and chipmunks.
Depending on your exact location, tray feeders will attract White-crowned Sparrows, White-throated Sparrows, Chipping Sparrows, Dark-eyed Juncos, Golden-crowned Sparrows, Spotted Towhees, Eastern Towhees, California Towhees, Song Sparrows, Fox Sparrows, American Tree Sparrows, Mourning Doves, Eurasian Collared-Doves, Common Ground-Doves, White-winged Doves, Band-tailed Pigeons, California Quails, Gambel's Quails, Bobwhite, Black-headed Grosbeaks, Rose-breasted Grosbeaks, Blue Grosbeaks, Indigo Buntings, Lazuli Buntings, Varied Buntings, Painted Buntings, Northern Cardinals, American Goldfinches, Lesser Goldfinches, Pine Siskins, House Finches, Purple Finches, Cassin's Finches, Evening Grosbeaks, Common Redpolls, Black-capped Chickadees, Chestnut-backed Chickadees, Mountain Chickadees, Carolina Chickadees, Oak Titmouses, Tufted Titmouses, White-breasted Nuthatches, Red-breasted Nuthatches, Pygmy Nuthatches, Brown-headed Nuthatches, Downy Woodpeckers, Red-bellied Woodpeckers, Northern Flickers, Gila Woodpeckers,
The bird feeder tray is designed to attract birds' eyes and will not turn over when the birds stand on the side of the bird feeder for food. And the metal rust-free mesh tray allows the water to drain out and keep seeds dry easily.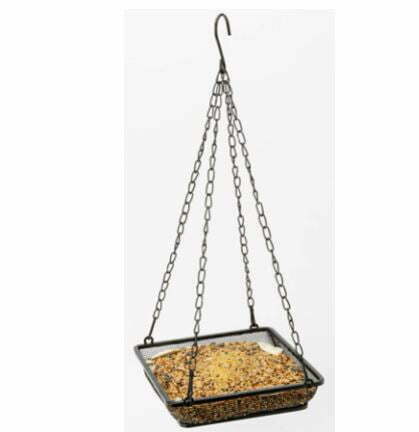 Features:
Functional design
High quality
Easy to use
Perfect for garden
Hopper Feeders
Also known as house feeders, these feeders protect seeds fairly well against the weather and bird droppings.
Hopper feeders charm most feeder birds, including finches, jays, cardinals, buntings, grosbeaks, sparrows, chickadees, and titmice.
Crafted from Insect and Rot Resistant Premium Cedar with a Water-Based Protective Stain. Use a wide range of seed varieties and suet to attract various beautiful birds to your backyard.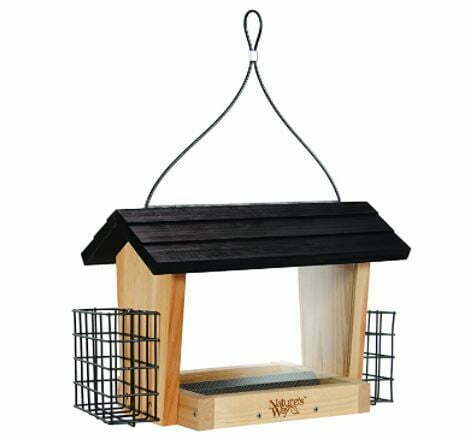 Features:
Removable mesh seed tray to allow water drainage for keeping seed fresh longer and is removable for easy cleaning.
This feeder is crafted from Insect and Rot Resistant Premium Cedar with a Water-Based Protective Stain and stainless steel screws; this feeder is built for years of birding enjoyment.
Includes a Vinyl-Coated Steel Hanging Cable and Rust-Free Hardware
Window Feeders
As the name indicates, this type of feeder is affixed to window glass with suction cups or hooked into window frames. These attract finches, chickadees, titmice, and some sparrows.
These are popular because they offer close-up views of birds, and their placement makes them the safest of all feeder types for preventing window collisions.
Most brands use acrylic that yellows in the sun, but this one is made with exclusively pioneered RESIST technology which keeps your feeder crystal-clear.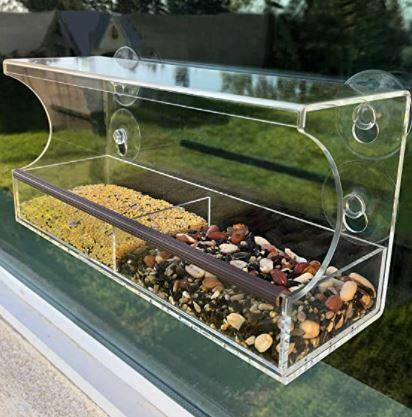 Features:
Superior drainage system
Easy to install
Suction cups in the corners to not obstruct the view
Over 4 whopping cups of food capacity
Tube Feeders
Many prefer this type of feeder because they may offer somewhat squirrel resistance if they have metal feeding ports. The hollow tubes keep seed fairly clean and dry; you can expect to attract small birds such as sparrows, grosbeaks, chickadees, titmice, and finches.
This heavy-duty feeder consists of an all-metal (polished aluminum) cage and a strong bite-resistant clear polycarbonate feed tube with metal feeding ports, squirrel, big birds proof, UV-Resistance, drop resistance, guarantee long service life.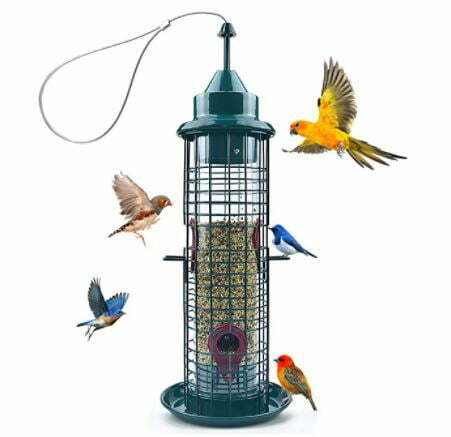 Features:
Stainless steel wire handle
Removable roof
Easily hanging, refill, and clean
Attractive green rust-resistant powder coat finish
Nyjer Feeders
Also known as thistle, this type of feeder can be found in two designs: tube feeders with tiny feeding ports and thistle socks, which are fine-mesh bags to which birds cling to extract the seeds.
These do a good job in alluring Goldfinches, Pine Siskins, and Common Redpolls.
The bird feeder has 8 feeding ports, allow multiple wild birds to feed at the same time. By hanging this thistle seed Feeder in your garden to attract large numbers of goldfinch, woodpeckers, sparrow, and chickadees.
Open the lid to fill full seeds or clean the hanging bird feeder—no required tools. Clean regularly and keep the bird feeder tidy will make the bird feeder last longer.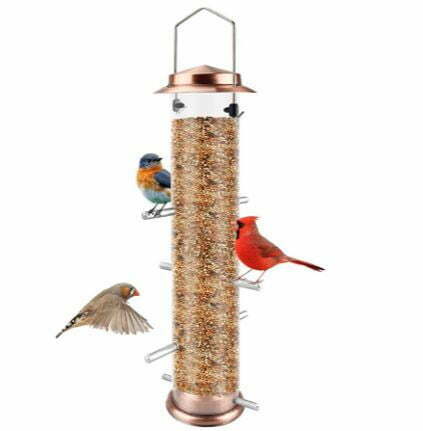 Features:
Easy Refill & Clean
Large Capacity
Sturdy & Quality Material
Easy To Hang
Types of Bird Feeders – Suet Feeders
Suet feeders may be constructed of wire mesh or plastic-coated wire mesh or be a simple mesh onion bag. They can be nailed or tied to a tree trunk, suspended, or affixed to the side of a hopper feeder.
With this type of bird feeder, you can expect to attract various woodpeckers, nuthatches, chickadees, titmice, jays, and starlings.
This bird feeder comes with openings in the shroud aligned with the feeding ports, providing birds access to the food. When a squirrel climbs onto the feeder, its weight automatically forces the shroud down, closing access to the ports. Squirrels and some large birds are foiled but not harmed in any way. Genius!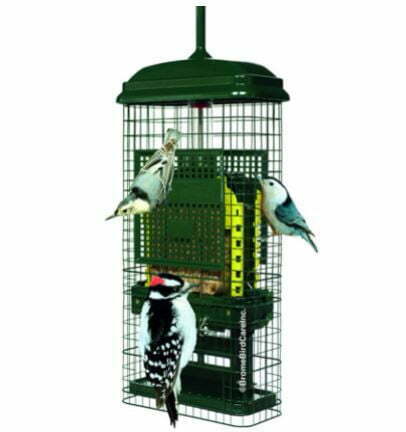 Features:
Solid Cedar and Stainless Steel Screw Construction
Stainless Steel Hanging Cable
Heavy Gauge Vinyl Coated Wire Mesh
Holds 1 Standard Suet Cake